Are you in need of a nurse navigator?
If you, or someone you know, needs help navigating a cancer diagnosis — or are simply looking for community resources for cancer support or need help understanding medical options — give Jackie Smith a call. You can reach her at Women's Health Services at TMH: 970-826-­3280 or jacqueline.smith@....
If you, or someone you love has gone through cancer treatments, you know what a complicated and confusing journey it can be. Answers around treatment are never obvious: you are always weighing benefits and drawbacks. Should you, say, get a mastectomy or a lumpectomy? Should you then get both radiation and chemotherapy? How about genetic testing? Add in the shock a cancer or other challenging diagnosis brings and no wonder you feel you can't think straight. On top of all that, you don't feel good.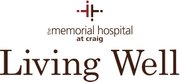 It's a lot to handle. Wouldn't it be great if you had a go-to person? Someone in the know to help you? At many top hospitals today, including TMH, you do. That's what nurse navigators do. They are there to help you navigate your diagnosis, treatment and recovery, and to sometimes even help you manage your emotions and finances.

"My role is to give support from beginning to end," said Jackie Smith, the new Nurse Navigator with Women's Health Services at The Memorial Hospital.
For example, Smith meets with every woman having a mammogram. If a woman happens to need more testing, or is given a cancer diagnosis, Smith is there to help her endure the next procedure, and emotionally process what's happening: "If she needs a biopsy, I can go in with her and hold her hand for support. If she learns she has cancer, I can be there after she gets the news and help her figure out, 'What now?' Then, I can walk with her as she continues on through her treatments."
Nurse navigators are guides, advocates, confidants, secretaries and even cheerleaders. Smith is a breast cancer survivor herself, so she has a deep understanding of what it means to have cancer. During her own journey her doctors praised her for staying positive and said they wished she could come with them to be there when other women were diagnosed. That's when she knew she wanted to help other people deal with cancer.
She is currently working to create a guide for newly diagnosed breast cancer patients. She plans to start up a support group, develop a wig bank at a local salon and create resource lists for emotional and financial support. Yet she isn't just there to serve women with breast cancer. She will screen women for several preventive tests and also be there for anyone — woman or man — who is dealing with cancer.
"The best time to see a navigator is right when you are diagnosed with cancer. We can help you through your fears and answer your immediate questions. We are there to help you figure out which appointments you need to set, and when, and to be there at your side during procedures, if desired," Smith added.
The role of a nurse, or patient, navigator was the brainchild of Dr. Harold Freeman, a breast cancer surgeon in Harlem, New York. In the late 80s, he went looking to answer why many of his patients had such poor five-year survival rates. He determined women were getting lost in a complex health system and faced several barriers to getting their care needs met, including financial limitations, psychological worries and navigating the system. That's when he came up with the idea of having someone guide patients through their care. Today, it's been noted that approximately 30 percent of hospitals provide navigators to patients with chronic diseases (such as diabetes) or cancer.
When asked what she wants to bring to her patients, Smith said, "We're posting inspiring words on the wall here in Women's Health Services. The placards will say it all: hope, strength, courage, faith, love and peace."
This weekly article with tips on living well is sponsored by The Memorial Hospital at Craig – improving the quality of life for the communities we serve through patient-centered healthcare and service excellence.