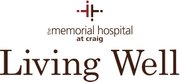 If you go
Reduced-cost mammograms at TMH in October
What: TMH is offering mammograms for $80 in honor of Breast Cancer Awareness Month.
Where: The Memorial Hospital, Women's Health Services, 750 Hospital Loop
Call: 970-826-3150 for information or to schedule an appointment
TMH's Mammos & Margaritas event
What: Take this chance to learn about the latest advances in women's health care from local experts and share a complimentary margarita and Mexican appetizers with friends.
When: Oct. 8; event opens at 6 p.m., presentation begins at 7 p.m.
Where: Holiday Inn of Craig, 300 S. Colorado Highway 13
Let's face it. For women, getting a mammogram is right up there with getting dental work. It's a procedure we endure rather than enjoy. But it feels great to walk out the door and know we can check it off the list for at least another year — or two.
As you may know, the Centers for Disease Control and Prevention changed its recommendations for mammograms. In the past, all women older than 40 were advised to get a screening mammogram every year. Now, according to the CDC, if you are age 50 to 74, you should have a screening mammogram every two years. If you are age 40 to 49, talk to your doctor about when and how often.
"When they looked at the sheer numbers and cases of women getting breast cancer in their 40s, it didn't make sense to advise all women in that age group to get mammograms," said Dr. James Summers, D.O., M.S., FACOG. "One in eight women will develop breast cancer in her lifetime, so screening mammograms are important. It's the best tool we have to catch breast cancer."
How often to get a mammogram still is up for debate, and some physicians think it still should be done every year, especially for women age 50 and older. If you want a mammogram every year, it's your right to have one.
Risk factors for breast cancer
"Women who are high risk for breast cancer should get a mammogram each year. The benefit of a yearly mammogram is catching pre-cancer or cancer early on, when cure rates are very good," Summers said.
According to the Mayo Clinic, risks for breast cancer include:
• Family history, especially if a mother or sister had breast cancer
• Inherited BRCA2 gene
• Increasing age
• Smoking and drinking alcohol
• Radiation exposure, especially when young
• Obesity
• Never getting pregnant or getting pregnant at age 35 or older
• Postmenopausal hormone treatment
Typically, Summers advises patients to come in for a breast exam every year, regardless of whether or not they get a mammogram that year.
"A mammogram is a good tool for detecting breast cancer, but you need a physical exam to go along with it as it allows us to feel things we can't see on films," he said.
If you find a lump
Many women still do self breast exams, and in doing so, they find their own lumps. If you happen to find a lump, don't be terribly alarmed. It simply may be a harmless cyst — and some women tend to develop more cysts than others with a condition called fibrocystic breasts.
How do you know if you are feeling a cyst or a malignant cancer tumor?
"Malignancies tend to feel firm, remain fixed in one spot and are sometimes tender, sometimes not. The telltale sign is that they don't go away or diminish after your period passes. Benign (unharmful) changes go away. Malignancies (cancers) don't," Summers said.
If you can move a lump around when you push on it and it is very sensitive, you could take the wait-and-see approach. It's fairly common that women develop cysts when hormones are running high before their menstrual period, and lumps diminish or disappear after it passes. But if you are concerned or see physical changes in your breast or bloody discharge from your nipple, see your doctor.
TMH offers reduced rates on mammograms during October
If it's been a year or longer and you are 40 or older, consider getting a screening mammogram. Through the month of October, The Memorial Hospital makes it easy — offering digital mammograms for just $80 — including a reading by a radiologist (see box).
"It's a low-cost way to get screened for women who are uninsured or underinsured. With a screening mammogram, you get reassurance and it helps you sleep through the night knowing you are staying ahead of breast cancer," Summers said.
This weekly article with tips on living well is sponsored by The Memorial Hospital at Craig — improving the quality of life for the communities we serve through patient-centered health care and service excellence.