— The Scholastic Book Fair will be available this week at East, Ridgeview, Sandrock and Sunset elementary schools. For more information on how long the book fair will be available at your child's school or to order books directly from the supplier, visit www.scholastic.com/fair.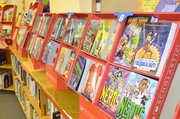 A tale of adventure in a fantasy land, a fictional recount of embarrassing school memories, or a collection of facts and photos so weird they just have to be true. All of these and more can be found in the world of books, with a whole new wave of selections hitting Craig once again.
This week will feature a book fair at local elementary schools, with dozens of literary entries for young readers available for purchase. Students already have had the chance to fill out wish lists for their most desired books, and parents can take a look to see what is available to them in the school libraries.
Tilila Gunderson, a member of the Sunset Elementary School Advisory Committee said the school has received a greater amount of books from supplier Scholastic than in previous years thanks to growing sales, getting 56 boxes rather than 36.
"I'm new here, but everybody's said there's a lot more books than last year," she said.
The fair has an Egyptian theme, with phrases like "The Reading Oasis" and "Hot Books!" prominent on hanging signs. A specially made pyramid contains wish lists prepared by teachers for what books they'd like to have for their classrooms.
Some of the most popular selections on wish lists are the newly released entry in the "Diary of a Wimpy Kid" series and a book of unusual stories and pictures from Ripley's Believe or Not!
Reading levels range from picture books to chapter books to reference books. Prices range from $1 to $30, and bargain books are plentiful.
"It's great because you don't have to have a lot of money to buy something," Gunderson said.
The book fair will be available Monday and Tuesday at all Craig elementary schools, with the displays staying up longer at some. For those unable to attend, purchases also can be made online for a brief time after the initial event.
Tracey Hart recently was hired as the new librarian for Sunset and already has seen a large amount of students excited about the prospect of collecting new books.
"They love doing those wish lists," she said. "Tilila's done a great job of getting a large assortment, so the kids have been able to find lots of books on a lot of different subjects, so that's to her credit getting such a variety and such a volume of them."
Hart added that she has been encouraged to see so much enthusiasm about reading across the school district.
"They've got so many great programs like Passport to Reading, and they're new to me, so I'm just hoping to enhance them as much as I can," she said.
Andy Bockelman can be reached at 970-875-1793 or abockelman@CraigDailyPress.com.