If you go
What: Moffat County High School fall musical — "Grease"
When: 7 p.m. Thursday and Friday; 2 and 7 p.m., Nov. 23
Where: MCHS auditorium
Tickets are $5 for general seating and $10 for the VIP center section. Tickets and merchandise can be purchased at www.moffattickets.org. Show organizers also will be raffling off memorabilia. For more information, email moffattheatre@gma... or call 970-824-7036.
Photo Gallery
MCHS production of 'Grease'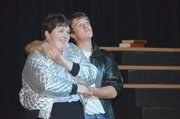 Craig — Only several days to go before the residents of Craig and Moffat County are whisked away to the days when the kids wore leather jackets and poodle skirts and all their problems and emotions could be expressed through song.
The Moffat County High School production of "Grease" opens Thursday evening in the MCHS auditorium, with the cast and crew revved up for a fantastic four-show run. With less than a week before the big night, the remaining time has been spent tweaking the rehearsal process for the beloved musical.
Gone are the days when the actors still had to glance at their scripts or mimed using props that weren't ready for use. Now that they're this close to the debut, their minds are focused on incorporating all the sights and sounds that make the production what it is, from the hot-rod set piece known as Greased Lightning to the musical accompaniment coming from the orchestra piece, an ensemble led by MCHS band teacher John Bolton.
Seniors Caitlin Harjes and Derek Maiolo, who play romantic leads Sandy and Danny, already are looking different. Her formerly brunette hair now sports a blonde tint, while his has been dyed jet black to more closely resemble John Travolta's coif in the film version.
The fast-paced choreography is a tough element, but the most difficult part of the final stretch has been working out the timing of the multiple costume changes, Maiolo said.
"There's a lot of stress putting all the finishing touches on it," he said. "We want to have the best production possible and go out with a bang."
The cast ranges in age from Craig Middle School eighth-grader Jeremy Looper to recent MCHS graduate Gaven Spears, who stepped in to play a member of the T-Birds when the student originally cast had to drop out of the show.
Spears, who appeared in numerous shows while at the school, said he has enjoyed being part of one more MCHS show before shipping out in January for a church mission in Brazil.
"It was only three weeks ago, so it's been crazy," he said.
Any activity that takes place during cold and flu season runs the risk of having people in and out, said senior Faith Christiansen, who plays Frenchy.
Even with all the ups and downs, everyone involved has put their heart and soul into the team effort, she added.
"It's a lot of hard work, and we're all pretty jittery," she said. "It's been really fun getting to know our characters as well as getting to know each other."
After each performance, the drama department will be raffling off the promotional banners for "Grease" to audience members. It also will host an auction for a commemorative plaque for the highest donor to the program.
"We'd like to see them go for as much as possible to ensure the long-term sustainability of the program," director Christina Wilcox said.
Each banner will be autographed by the cast and crew as a keepsake to remember the show for years to come.
Although the whole experience will be over all too soon, junior Cassidy Griffin, a member of the chorus, said she has a jumble of feelings in the lead-up to showtime.
"My favorite part is right before the show when everything's all ready and we know that we finally have it down, and we finally get that feeling of achievement," she said. "You start to feel your nerves and butterflies in your stomach and you just think, 'I've got this. It's OK.'"
Andy Bockelman can be reached at 970-875-1793 or abockelman@CraigDailyPress.com.