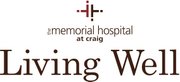 The Conversation Project
Have you had the conversation? The Northwest Colorado Visiting Nurse Association's Hospice and Palliative Care staff are hosting a conversation starter session. It's not easy to talk about how you want the end of your life to be, but it's one of the most important conversations you can have with your loved ones. Free conversation starter kits will be available, and refreshments will be provided.
When: 5:30 to 6:30 p.m. Wednesday
Where: The Memorial Hospital
Cost: Free
Call: 970-871-7682
Craig — Talking about our wishes for the end-of-life can be uncomfortable. Most people don't want to think about their loved ones dying or face the idea of dying themselves. Yet knowing wishes about medical care and personal desires is critically important in helping the transition be a peaceful one rather than a stressful one.
"While driving my dad to surgery, I decided to double check to see if the wishes he stated years ago — that doctors do all they could to save him — is what he still wanted. He confirmed those were still his wishes, and I was so grateful I asked because a month later I had to make those decisions for him. I felt peace around my actions knowing I was doing just what he wanted," said Sandy Beran, spiritual, bereavement and volunteer coordinator for the Northwest Colorado Visiting Nurse Association's Hospice and Palliative Care team.
The Hospice team recently joined up with The Conversation Project, a national project that helps people start conversations about their wishes for end-of-life care with loved ones. The project makes it easy by supplying a starter kit (found at www.theconversationproject.org). Together, the two entities are hosting a conversation starter session at The Memorial Hospital on Wednesday.
The project fits nicely with the philosophy of Hospice to support families and patients as they face the end of life: "One of the most important gifts we give our patients and families in Hospice is a sense of control over what's happening. Our only agenda is to support them in whatever they need and desire. Sometimes, patients desire a springboard for determining their wishes and needs — and that's where The Conversation Project comes in," Beran said.
The conversation starter kit guides patients to think about what's important to them and how they would like to live their final days. It also helps patients decide where they stand on end-of-life care — as in how much or how little medical intervention they desire.
One question posed is: "How long do you want to receive medical care?" with choices from 1 to 5. One is "I want to live as long as possible no matter what," and 5 is "Quality of life is more important to me than quantity." Answers to such questions are reassuring for family members. That way, they are prepared to carry out wishes when the time comes.
Beran suggests having conversations on end-of-life wishes early on before decisions need to be made and then reviewing them to make sure someone's wishes don't change in the here and now.
"When families don't have the conversation and then, say, a patient can't speak, the family has to guess and then weigh each other's differing opinions. That can cause tension. It is hard to think straight when your heart is hurting and you are experiencing all the feelings of grief like anger, sadness and a loss of control. That's why having a plan in place can be so helpful," Beran said.
While it's important to have such legal documents ready, as in advanced directives (something most hospitals help with, including TMH) and living wills, The Conversation Project is more all encompassing and personal.
"People often say they wish to spend time with the people they love and tell them how much they mean to them or reconnect with old friends and family members. At Hospice, we come alongside the patient and family and fill in the gaps as best we can," Beran said.
The Hospice team — a medical director (physician), nurses, social worker, certified nursing assistants, home health aides and care coordinators — strive to keep patients as free of pain and as comfortable as possible so they can make the most of the time that remains. They also support the spiritual and emotional needs of the patient and family. For more information about Hospice, call care coordinator Linda at 970-871-7688 or visit 745 Russell St. in Craig.
This weekly article with tips on living well is sponsored by The Memorial Hospital at Craig — improving the quality of life for the communities we serve through patient-centered health care and service excellence.