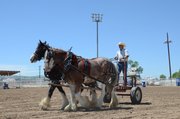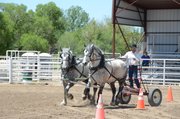 Memorial Day events in Craig
5K run/walk — Alice Pleasant Park, 7:30 a.m.
Dress like your favorite superhero. Registration is $10.
"The Moffat Road" exhibit opening — Museum of Northwest Colorado, 9 a.m. to 5 p.m.
The grand opening of the new exhibit "The Moffat Road: 100 Years of Rails to the Yampa Valley." FREE admission. 970-824-6360. 590 Yampa Ave.
Grand Olde West Days — various locations, all day
A pancake breakfast is at 8 a.m. From 10 a.m. to 5 p.m. there will be laser tag, a bounce house, mechanical bull riding, redneck games, trampoline bungee jumping, a magician, old time photos, face painting and live music at the beer garden. Pony rides and a dunk tank with coaches and local politicians is from 2 to 4 p.m.
Memorial Day service — Craig Cemetery, 11 a.m.
All are welcome to honor those who died in service to our country.
Elks Lodge Memorial Day Special — Elks Lodge, 11 a.m. to 2 p.m.
Lunch will be served in conjunction with the Grand Olde West Days. 970-620-0874.
Craig — Horse races and obstacle courses kicked off the Grand Olde West Days on Sunday, bringing farm horses and ranchers from across the state together to compete in the Draft Horse Show and Feed Team Race.
"We're here to work our horses and have a little bit of fun," said Mike Anson, who competed in the open team obstacle course race with his son Grady Anson, 12.
The Ansons were the only Craig residents to participate in the competitions, which had a total of 10 teams. Other teams traveled from across Colorado to compete.
The Draft Horse Show and Feed Team Race event had 12 competitions, including a halter show, draft Western riding and an open team obstacle course.
"They simulate stuff you would do if you were working your horses on a farm," said event organizer Mardi Anson, who is Mike Anson's wife. "We do it to compete, but we also do it to have fun. Most of these horses are taken out of the field."
Judges evaluated the competitions based on how well horses listen to their owners. For instance, to get a good score in each round, ranchers and their horses had to show judges how their animals could pull tractors and trailers evenly across the course without touching markers such as cones.
"It shows their agility and maneuverability. It keeps our horses tuned up," said Matt Clover, of Riffe, who won first place in the obstacle course race. He tied with Darrell Hill, of Greeley.
Mardi Anson heard an enormous amount of positive feedback from visiting ranchers.
"People have raved about our facility here," she said. "There are bigger towns that have less than we do."
Noelle Leavitt Riley can be reached at 970-875-1790, or at nriley@CraigDailyPress.com.