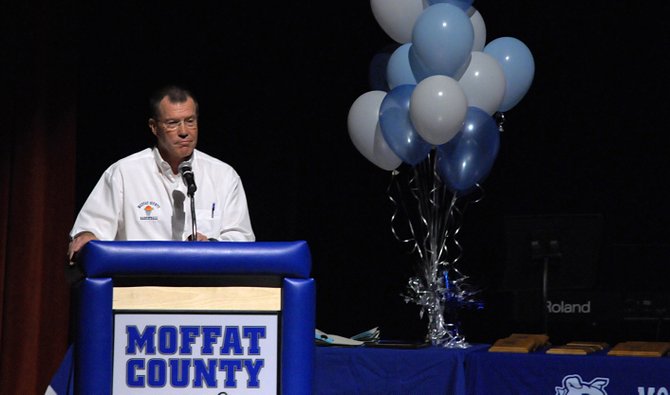 MCHS seniors strong on the field all year long
Updated May 25, 2013 at 12:29 a.m.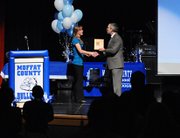 MCHS honors senior athletes
Dude Dent Award (Male Athlete of the Year): Jacob Teeter
Female Athlete of the Year: Eryn Leonard
Signed to play sports in college: Jacob Teeter, Eryn Leonard, Michael Samuelson, Kayla Hall, Matt Hulstine, Bryant Cox
CHSAA Active Scholar: Josh Pritchard, Tori Snyder
Four-year scholar athletes: Rose Howe, Matt Hulstine, Eryn Leonard, Sassy Murray, Jacob Teeter
Manager of the Year: Erica Dilldine (football, boys basketball)
Craig — With all they have accomplished off the field this year, members of Moffat County High School's Class of 2013 made sure to get their money's worth on the field in the final seasons of their high school careers.
In a school year that saw eight varsity teams make the regional or state rounds in postseason tournaments, MCHS athletics were buoyed by tremendous participation from this year's senior class.
It started in the fall, when the Bulldogs football team sported 17 seniors, a group that made up most of the starting lineup on both sides of the ball, and it continued through the winter and spring. The girls basketball team had seven seniors, five of whom earned all-conference honors, and the girls soccer team, led by nine seniors, made its first-ever trip to the playoffs.
Former Moffat County coach Craig Mortensen, speaking at the MCHS athletic awards banquet Thursday night at the high school, touched on the dedication all student-athletes display.
"It's not easy being a coach and it's not easy being an athlete," Mortensen said. "It would be so easy for them to be doing something else."
Mortensen said student-athletes learn "commitment to something bigger than yourself; to give."
The Moffat County senior class had dedication to their craft, as well as to teammates and coaches, down pat. Many seniors participated in two or three sports and sacrificed leisure time throughout the school year. Those who focused on one sport spent countless hours in the offseason preparing for it.
For some, the hard work over the past four years has paid off in the right to keep playing competitively. Six Moffat County seniors have signed to participate in sports next year in college, with another still trying to decide on a destination.
But the senior athletes were more than just jocks with the way they carried themselves off the field.
Five members of the class achieved four-year Scholar Athlete status, earned by maintaining a 3.5 GPA through all four years of school and earning at least one varsity letter in each year of school. Rose Howe, Matt Hulstine, Eryn Leonard, Sassy Murray and Jacob Teeter all were studs, some in multiple sports, but also among the cream of the crop academically.
"They work hard every waking moment trying to keep up on their studies, juggling that with their busy activity schedules," Principal Thom Schnellinger said.
The Class of 2013 faced off against new opponents, learned from new coaches and adapted to new styles of play, but its members always came away complimented by opposing coaching staffs and fans.
"When it comes to athletics, we know life lessons occur on the field," Schnellinger said at Thursday's ceremony. "Within adversity in athletics kids learn very different things than in the classroom. Whether winning or losing, they learn how to deal with things when it gets tough."