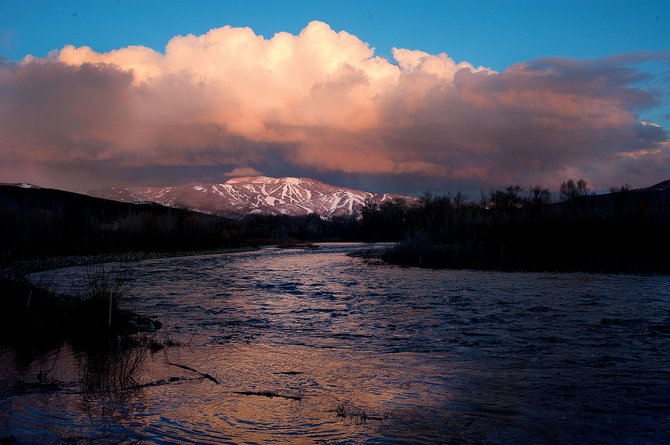 Yampa Valley rivers placed in cold storage by wintry storm
Updated May 2, 2013 at 3:53 p.m.
By the numbers
Elk River, Milner
Noon: 607 cubic feet per second
Average for this date: 1,420 cfs
Highest for this date: 3,020 in 1927
Lowest for this date: 388 cfs in 1991
Yampa River, Steamboat
Noon: 835 cfs
Average for this date: 1,060 cfs
Highest for this date: 2,820 cfs in 1928
Lowest for this date: 325 cfs in 1937
Yampa River, Craig
Noon: 2,770 cfs
Average for this date: 3,550 cfs
Highest for this date: 6,810 cfs in 1985
Lowest for this date: 1,240 cfs in 1991
Yampa River, Maybell
Noon: 3,280 cfs
Average for this date: 4,430 cfs
Highest for this date: 9,220 cfs in 1938
Lowest for this date: 1,160 cfs in 1991
Source: U.S. Geological Survey
Steamboat Springs — The snowstorm and associated cold front that blew through the Yampa Valley early this week has put area rivers in cold storage for a few days.
At a time when the annual spring runoff typically is ramping up, the subfreezing nights and cool days particularly have impacted the Elk River with its headwaters in the Mount Zirkel Wilderness Area. The Elk was flowing at 760 cubic feet per second Thursday morning, well below the median level for the date of 1,260 cfs, according to the U.S. Geological Survey.
The Yampa was flowing at 896 cfs Thursday morning in downtown Steamboat Springs, closer than the Elk to its median flow for the date of 1,060 cfs.
The Colorado Basin River Forecast Center was predicting that the Yampa would drop below 700 cfs Thursday and Friday before gradually climbing past 1,100 cfs by about May 10.
The Yampa River further downstream Thursday afternoon in Moffat County was flowing in the range of 70 to about 80 percent of the median for the date.
Just below Craig, the river was flowing at 2,730 cfs, or 81 percent of median. Further west, at Maybell, the river was flowing at 3,300 cfs, or 80 percent of median.
A major tributary, the Little Snake River, enters the Yampa just above Cross Mountain Canyon. Below the canyon, just upstream from the boundary of Dinosaur National Monument, the river was flowing at 4,350 cfs, just 70 percent of median. The Little Snake is part of the explanation. It was flowing at 79 cfs, just 49 percent of the median for the date.
Aldis Strautins, a service hydrologist with the National Weather Service in Grand Junction, said the current cool down appears to be a good thing for water supplies.
The current levels of rivers and the snowpack across the combined Yampa and White river basins mean that conditions will be improved from spring and summer 2012, when the meager snowpack peaked in March, Strautins said. This year, the snowpack peaked April 25, two weeks after the average peak date of April 10, he added.
"Last year at this time, we were well on our way to melting out and being done," Strautins said. "I think overall, this is a better scenario than we could have had. The snowpack was below normal to start out, and then we got close to normal. Then it started to look like we would melt out earlier than normal. Now, we're closer to the average time frame for the melt."
David Dietrich, of Steamboat Flyfisher, said the influence of the cold weather could create a narrow window of opportunity for float fishing on the river upstream from Steamboat Springs. He observed Wednesday that the river was running a little cloudy for fishing, but there's a chance now that it will clear up for better fishing.
"It was 21 degrees this morning," Dietrich said Thursday. "I think with these colder mornings, that's going to settle some things out. We only need another half-foot to a foot of visibility and the river could be back on for stripping streamers and wading the seams."
The National Weather Service was predicting that the temperature would dip to 23 degrees Thursday night into Friday, and although daytime highs will be in the high 50s Friday and Saturday, overnight lows will remain below freezing. Warmer weather is expected to return Monday when the daytime high expected to reach 65 degrees under mostly sunny skies.
Anglers may launch only a small craft from the Chuck Lewis State Wildlife Area upstream from the city limits on Routt County Road 14F and float to River Creek Park or Rotary Park, for example. Or depending how much sediment the creeks are introducing to the river, they could launch at Rotary Park and float through town to the Steamboat Springs Community Center.
For anglers who don't want to strip streamers, large stoneflies or egg patterns are other options, Dietrich said.
To reach Tom Ross, call 970-871-4205 or email tross@SteamboatToday.com