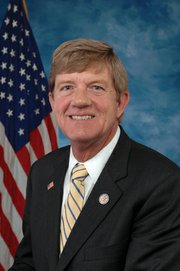 Craig — State Rep. Scott Tipton, R-Cortez, will be in Craig on Wednesday to thank voters for their support during the November election.
Residents are invited to meet the representative during the Coffee with Congressman Tipton event from 8 to 9 a.m. Wednesday at Cool Water Grille, 337 W. Victory Way. Coffee, tea and pastries will be served.
The event Wednesday marks one of several Tipton has planned in Moffat and Routt counties this week.
Additional stops include:
Tuesday in Routt County
Meeting with Routt County commissioners
When: 8:30 to 9:30 a.m.
Where: Commissioners Hearing Room at the Routt County Courthouse, 522 Lincoln Ave.
Lunch with Routt County seniors
When: 11:45 a.m. to 12:15 p.m.
Where: Steamboat Springs Community Center, 1605 Lincoln Ave.
Meeting with the Steamboat Springs Winter Sports Club
When: 4 to 5 p.m.
Where: Winter Sports Club office, 845 Howelsen Hill Parkway
Wednesday in Moffat County
Coffee with Congressman Tipton
When: 9 to 10 a.m.
Where: Cool Water Grill, 327 W. Victory Way
Meeting with Moffat County commissioners
When: noon to 1 p.m.
Where: Downstairs conference room at Moffat County Courthouse, 221 W. Victory Way
Meeting with Bureau of Land Management Hotshots fire crew
When: 2 to 3 p.m.
Where: BLM Little Snake Field Office, 455 Emerson St.
Joe Moylan can be reached at 875-1794 or jmoylan@craigdailypress.com.