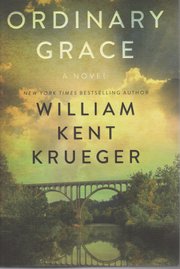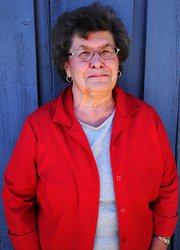 "Ordinary Grace," this week's novel for adults, is powerful — powerful because the events of the novel center around five deaths and the impact of those deaths on the town of New Bremen.
The novel was written by William Kent Krueger and published by Atria Books, A Division of Simon & Schuster, Inc. (2013). "Ordinary Grace" is a new book at the Craig Moffat County Library.
It has been forty years since that tragic summer, but Frank Drum reflects on its events. In the Prologue to the book he says that he still thinks about it. So the novel is a look back to the summer of 1961 when Frank was just 13 years old. It is told in first person, from young Frank's point of view.
New Bremen is in Minnesota. The town is divided into two parts. The Flats lie along the Minnesota River and the Heights is just above it. (The Heights is where people with money live.) The Drum family lives in the Flats. Nathan Drum, Frank's father is the Methodist minister who is responsible for congregations in New Bremen and the nearby towns of Cadbury and Fosburg.
Ruth, Frank's mother, is the choir director. Sometimes she sings solo, and Frank thinks her voice is so beautiful that "she could make a fence post cry." Ruth is also a pianist.
Jake Drum is 11, but he's wise beyond his years. Jake works with a speech therapist each week to help with a stuttering problem.
Ariel is 18 and has just graduated from New Bremen High School. She has a scar from surgery to repair a cleft lip. Ariel is musically talented and plans to attend Juilliard in the fall. For the past few years she has trained with Emil Brandt who is considered the best composer and pianist in Minnesota. Ariel has a job as a waitress but in her spare time she types Emil's dictations for a memoir he is writing.
For a year now she has been going steady with Karl Brandt, the son of Axel and Julia Brandt. They are the owners of a brewery and live in the Heights. Emil is Karl's uncle.
Emil and Ruth Drum are childhood friends. In fact, they were engaged at one time, but that ended when Emil ran off to New York. Later on, Emil enlisted in the service and returned home disfigured and blind, and now he and Ruth are good friends again. Emil lives with his sister Lise who has her own problems. She was born deaf and "difficult." She is prone to rages and does not like to be touched. Lise never leaves the yard, but she enjoys visits from Jake Drum who helps her with gardening.
As the novel opens, it is a hot June night. Nathan has been called to the police station to take Gus home. Gus is an old friend of Nathan's who has a room in the basement of the church. Sometimes he drinks, and that's what happened tonight. It has been just a day since young Bobby Cole was run over by a train and killed. When Gus met up with Morris Engdahl, a young troublemaker, at the bar, Morris called Bobby a "retard," and Gus got into it with him.
The boys are with their father at the jail and they hear Doyle, a policeman, say that there's something odd about Bobby's death. So the next day they disobey their parents' rule about staying away from the train track and go off in search of evidence. That's when they see two men down by the river. One is Warren Redstone, an Indian. The other man is sprawled out on the ground. It is the second death for the town.
About then, Ariel starts to talk about not going to Juilliard in the fall. She says it would be cheaper to go to Mankato State instead and she could still study with Emil. Frank wonders about Ariel because he has seen her sneak out late at night and head for the Heights.
Then on the night of July 4, Ariel does not come home. It is Frank who finally finds her in the river. The autopsy reveals that she was hit on the head with something like a tire iron but died from drowning when she was put in the river. But there's more to the autopsy, a shock.
Who killed Ariel? Was it Karl or perhaps it was Morris Engdahl who made fun of her scar and called her a skag. The chief suspect is Warren Redstone who had Ariel's locket (and Bobby Cole's glasses, too).
The tragedies aren't over yet. There's a lot more to this fascinating novel that will keep you reading!
"Ordinary Grace" is about $24.99 in hardcover. The book can also be found at the Moffat County Library.