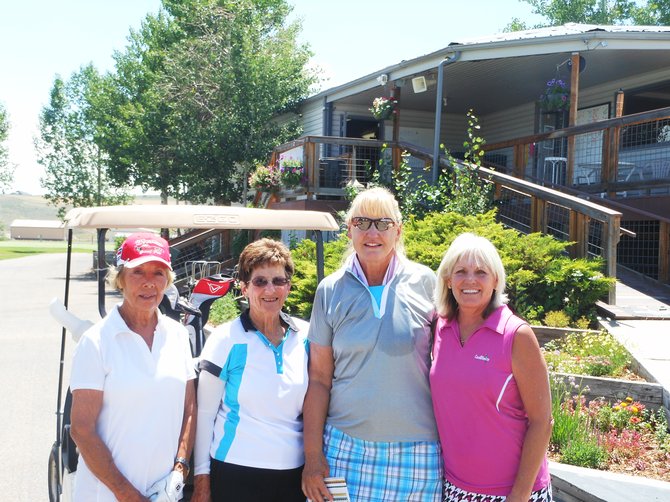 Silver Bullet Tournament celebrates successful, beautiful weekend
Tournament results:
Championship Flight
GROSS
1st: Kim Eaton, 135
2nd: Jackie Skelton, 160
3rd: Tami Holt, 166
Sunday Day Money
Longest Drive: Hole #1 — Tami Holt
1st Flight
GROSS
1st: Penny Sykes, 172
2nd: Shannon Tittle, 175
3rd: Sheila Naski, 178
Sunday Day Money
GROSS
1st: Peggy Brink, 89
2nd Flight
GROSS
1st: Michelle Marquardt, 186
2nd: Deb Ghiloni, 191
3rd: Cindy Lonis, 193
Sunday Day Money
GROSS
1st: Jackie Heuer, 96
3rd Flight
GROSS
1st: Teresa White, 203
2nd: Rebecca Ludlow, 204
3rd: April Branstetter, 206
Sunday Day Money
GROSS
1st: Marissa Mortensen, 111
Rena Carver, left, Helen Jurca, Norma Miller and Jeannie Pippin enjoyed a fun and challenging afternoon Sunday at the Yampa Valley Golf Course.
They played in the Silver Bullet women's tournament that took place on Saturday and Sunday.
Women from Colorado and other states teed off for the largest multiple-day, stroke-play game of the year for women. This year, 62 golfers from three states played 36 holes.
"It was a beautiful course and it was challenging," Pippin said. "But it was beautiful and very fun to play. These people who put it on are really awesome."