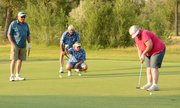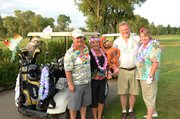 Hawaiian Scramble results
Kelby Virden, Brady Virden, Callie Papalas, Amber Nicholson — 32
Cathy Gush, Mike Gush, Brenda Anderson, Gary Anderson — 35
Brett Sperl, Julie Sperl, Dave Pike, JJ Pike — 35
Chuck Grobe, Julie Grobe, Brenda Parfray, Ray Parfray — 36
Tom Grieves, Patsy Grieves, Pat Grieves, Anita Grieves — 36
Shane Camilletti, Sandy Camilletti, Mike Williams, Amy Williams — 36
Rick Nelson, Mary Nelson, Luke Franich, Melissa Forbes — 36
Don Smith, Jeannine Griffin, Donna Deathridge, Pete McQue — 37
Blake Harold, Cassidy Mikesell, Walker Lloyd, Zac Phillips — 37
Tom Knez, Helen Knez, Jim Showalter, Linda Showalter — 37
Moe Ortega, Mimi Chaillot, Marilyn Rieser, Casey Nations — 39
Gary Baysinger, Carolyn Baysinger, Chuck Sandberg, Patty Ann Sandberg — 39
Jason Baker, Jessica Baker, Jesse Jackson, Maria Jackson — 40
Dave Jenkins, Danielle Jenkins, Blaine Bradshaw, Sue Bradshaw — 42
Mike Shelton, Bev Shelton, Anna Shelton, Donna Parker — 43
Travis Risner, Christi Risner, David Gourlay, Sid Gourlay — 46
David Prince, Kathy Havrila, Nancy Smith, Rick Landry — 47
Golfers celebrated the start of the weekend with a fun round of nine holes and a pig roast to follow Friday night at Yampa Valley Golf Course.
Seventy-five golfers took part in the TGIF Hawaiian Luau Scramble on Friday evening, combining a laid-back theme with a leisurely round of golf. Although no team took its rounds too seriously instead of relaxing and enjoying one another's company, the foursome of Kelby Virden, Brady Virden, Callie Papalas and Amber Nicholson came away with the lowest score, shooting 32 over the nine holes.
The other two paying positions were claimed by the top two net scores, which went to Blake Harold, Cassidy Mikesell, Walker Lloyd and Zac Phillips in first and Gary Baysinger, Carolyn Baysinger, Chuck Sandberg and Patty Ann Sandberg in second.
The luau is part of the TGIF rounds the golf course hosts every few weeks to show off the course and create a fun atmosphere rather than a competitive one, head golf pro David Hardison said.
"We just want to get people out here," Hardison said. "It's about getting the exposure for the course."
This year's luau was a rousing success, with Don Smith, president of the golf course's board, saying it was one of the largest TGIFs ever put on.
"This may have been the biggest we've had since we started doing TGIF," Smith said. "A lot of that is thanks to David and (wife) Donna. They're out here, and the staff is having a great time, they're having a great time, so we (the golfers) have a great time."
If fun was the objective, then the course nailed it Friday night with golfers decked out in their best Hawaiian gear, a pig roast and drinks out of coconut cups.
"We had a blast," said Mike Gush, whose team — which included Cathy Gush and Brenda and Gary Anderson — shot a 35 on the night. "This one's all about having fun. There's no pressure, so I was shooting well, anyway."
Nate Waggenspack can be reached at 970-875-1795 or nwaggenspack@CraigDailyPress.com