Photo Gallery
Wyman's Winter Festival 2013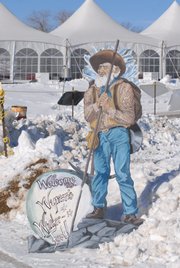 A smorgasboard of activities was available for all ages at Wyman's Winter Festival. From snowmobile races to snowmobile freestyle, hockey to ice fishing and more, the Winter Festival provided fun throughout the day Saturday at Wyman Museum.
Craig — It has become one of Craig's premier events during winter, and Saturday's all-day seventh annual Winter Festival at the Wyman Museum did not disappoint.
On the heels of 2012's lack of snow and scaled back Winter Festival events, this weekend's 2013 version was back at full strength and even included some expanded snow-related events.
The morning began with Xtreme Mountain Racing Snocross snowmobile racing, with riders from across Colorado and Wyoming competing to score points toward the season championship. Several riders from Craig raced throughout the day.
In between sessions of snocross, races were held on an oval track with vintage snowmobiles (pre-1985). While the Winter Festival always has featured a vintage snowmobile show, this was the first year for vintage sled racing.
Wyman Museum's Nicky Boulger said it was a major hit.
"The crowd loved it," Boulger said. "The oval track, we did a cup race during the freestyle intermission and it was great."
The snowmobiles attracted people from far outside Moffat County. Brent Beckstead, Diane Beckstead and Darrell Lish made the trip from Lava Hot Springs, Idaho, to watch the races and enjoy the other festival attractions.
"We came two years ago and it was a two-day festival," Brent Beckstead said. "We had so much fun that it became one of those things we knew we had to get back to."
But watching snowmobiles race was hardly the sole attraction Saturday. The Winter Festival also featured children's and adult hockey games, ice fishing, a chili cook-off, a cardboard box derby competition, a draft horse pull and fireworks.
Throughout the day, crowds filled the grounds around and inside the museum east of Craig on U.S. Highway 40. Boulger called it a major success, even before the finale.
The day ended with an hour-long show from Warrior Freestyle and X Games medalist Justin Hoyer doing spectacular jumps on their snowmobiles, and a fireworks show. Boulger said it was a great finish to a great day.
"I couldn't have asked for better," she said. "The weather was good, a good crowd. For freestyles tonight, the crowd was just phenomenal. The fireworks were wonderful, the Craig fire department did a great job. It was just a great day overall."
Nate Waggenspack can be reached at 875-1795 or nwaggenspack@craigdailypress.com