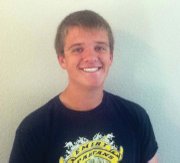 There was no school-wide send-off or big to-do last week when Moffat County High School senior Gaven Spears was selected for the Colorado all-state choir.
That's probably the way the modest Spears prefers it.
Spears was one of 600 students from across the state selected to travel to Denver last weekend and perform a concert as part of an all-state choir.
With more than 2,100 high school juniors and seniors auditioning for the choir from around the state, Spears' choir instructor Heather Dahlberg said the selection was a big deal.
"Going to all-state for a musician is like going to state for an athlete," Dahlberg said. "That's a very synonymous comparison for the sort of prestige it holds. You earn it. Not just anybody goes."
Spears wasn't selected when he auditioned as a junior, making his senior-year selection all the more special.
"It was amazing," Spears said. "I don't want to seem immodest, but it proves that I can sing, and I'm ready to go out and continue doing that. It's going to be great."
Those who auditioned had to prepare a solo and were then tested on their musical abilities such as sight-reading, interval training and listening skills.
A member of the band, choir and theater, Gaven said he was well prepared for his audition.
"You can tell he's totally enthusiastic, which is what he needs for the industry — that level of enthusiasm and thick skin," Dahlberg said. "For some reason Gaven has this shield, and it's rare. It's a rare personal trait he has where all that garbage bounces off him and he just does his own thing and people can either follow or get out of the way. But he'll just barrel through. He's always positive."
Spears just shrugged and said, "My dad always used to say, 'Let it bounce. Let it bounce.'"
Darian Warden can be reached at 875-1793 or dwarden@craigdailypress.com