Steamboat Springs — Steamboat Ski Area could see enough snow between Friday and Monday morning to bring a return to powder conditions, but the mountains surrounding Steamboat Springs would need to see above-average snowfall for the next 60 days to build up the snowpack needed to fill streams and rivers during the coming spring runoff.
Time is growing short if the snowpack — water content in the standing snow — surrounding Steamboat is to its historic norm by the end of the season, Mage Hultstrand, of the Natural Resources Conservation Service in Denver, said Thursday. She said February and March typically combine to provide 36 percent of annual snowpack, with April contributing another 3 percent. With current snowpack in the combined Yampa/White River basin standing at 47 percent of the annual peak, mountains in the area would have to see 53 percent of the annual snowpack accumulate between now and the second week in April to reach the average.
"The average peak there is on April 11," Hultstrand said. "To get there in the next two months would take well above-average snowfall for February and March." Hultstrand is the agency's assistant snow survey supervisor.
The NRCS reported Feb. 1 that despite heavy snowfall in late January, Colorado's snowpack was at 72 percent of normal for the date and 10 percent lower than where it stood at the same time in the drought winter of 2011-12.
The combined Yampa/White river basin, which includes most of Routt County, is doing a little better, according to the NRCS, at 77 percent of average and 115 percent of last year's levels. Another encouraging sign is that reservoir storage across the twin basin currently stands at 103 percent of average for the date.
Focusing on specific locations in the Yampa River Basin, the snow measuring station at 9,400 feet on the west side of Rabbit Ears Pass was showing 11 inches of water contained in 43 inches of snow Thursday, or 75 percent of average for the date. Those 11 inches of water also represent 42 percent of peak snowpack (water content); Rabbit Ears typically peaks at 26.1 inches of moisture April 28.
At the Tower site at 10,500 feet on Buffalo Pass, there currently is 69 inches of snow on the ground containing 19.2 inches of moisture. The water content at the Tower site, which typically holds some of the most robust snowpack in the state, is just 66 percent of the average of 29.1 inches for the date and 37 percent of the seasonal peak.
The Tower site peaks, on average, at 51.4 inches of water May 9.
As a reference point, in early May 2011, the Tower site, after 27 days of snowfall in April, measured 200 inches of standing snow containing an all-time Colorado record of 72.6 inches of snow-water equivalent.
Could Steamboat and the Park Range see another April like April 2011?
"Any area can have crazy storms in late season," Hultstrand said, "But usually by then the snow is so ripe, it's already running off. So even though you're accumulating more snow, you've already reached peak."
Yampa and White River basins snowpack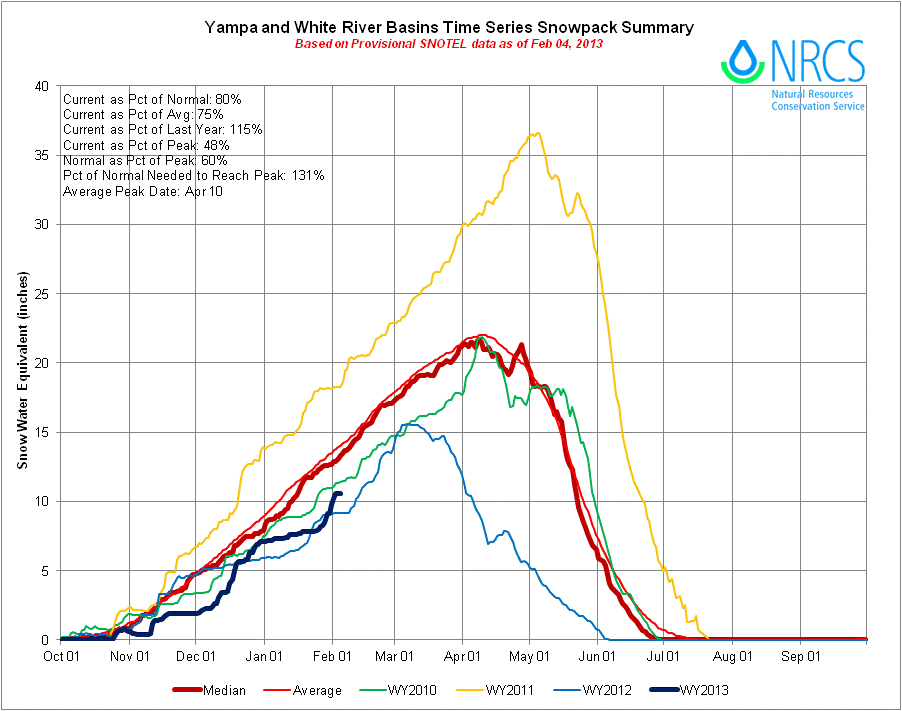 To reach Tom Ross, call 970-871-4205 or email tross@SteamboatToday.com