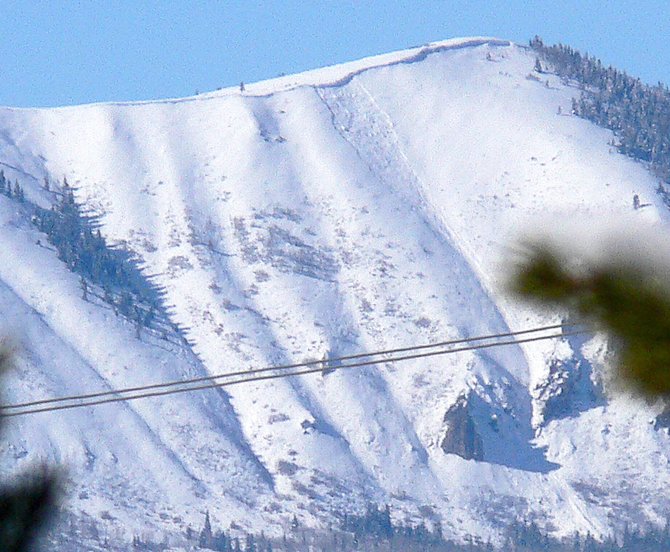 Buffalo Pass skier escapes avalanche after jumping off rock northeast of Steamboat Springs
There were reports of at least five avalanches in the mountains west, north and northeast of Steamboat Springs over the weekend, including one caused when a skier jumped off a rock at an elevation of 9,400 feet on Buffalo Pass. A man in contact with the skier's party posted a report on the Colorado Avalanche Information Center's website saying the individual skied out of the path of the slide and was not buried.
Scott Toepfer of the Avalanche Information Center issued a special advisory statement just after 5 a.m. Monday following a weekend when there were numerous five avalanches across the state, including a fatal incident near Silverton in the San Juan mountains in Southwest Colorado. He reported that the last storm cycle complicated an already weak snowpack.
"It is taking little additional stress to trigger large, deep and dangerous avalanches," Toepfer wrote. "These conditions will linger for some time into the future. Backcountry riders are advised to use extra caution if traveling in or around avalanche terrain today."
Patrick Meyer, who did not witness the Buffalo Pass slide but observed the aftermath and talked to members of the party, filed the report and a photograph of the avalanche just north of Steamboat. The area was described as "Bitch Creek." The slide broke on a north-facing slope almost devoid of trees, with a number of rocks protruding from the snow cover.
"Party said that skier triggered slide from jumping off rock, was able to ski out of slide path, no burial," Meyer wrote.
Among the other local slides was one photographed by retired avalanche observer Art Judson, who estimated it fell 900 feet on the east side of Sleeping Giant. Spencer Logan of the Avalanche Information Center reported a slide in the vicinity of Hahn's Peak that broke 36 inches at the crown.
Other avalanche reports in the Steamboat area did not indicate they were human caused.
One small avalanche was spotted between Rabbit Ears Pass and Buffalo Pass. It may have been turned in by a snowmobiler, based upon his comments, which included more detail about the dangerous layers in the snowpack.
Steven Marlenee wrote that he encountered the slide after the fact on a south-facing slope in the midst of a timbered area marked by a rock formation he estimated to be between 35 and 40 feet tall.
Here is his description of the snowpack: "Snowpack started as fluffier powder with a base that was conducive to snowmobiling, in that it had a definite bottom. As the day went on, the snow seemed to settle very rapidly and become much more slab-like.
"After seeing this particular slide, I dug down. The first 12-14 inches was powder. There was an ice layer, about 1-2 inches thick. This (layer) was so firm that one couldn't shovel through it without extreme force. Beneath this layer was 2-3 feet of sugar (snow). I didn't dig past this point."
After reading the details of the report, Judson said it was a small slide, actually little more than a slough.
It was a different story north of Clark on the western edge of the Mount Zirkel Wilderness Area, where a skier using climbing skins to surmount the northwest ridge of Little Agnes peak watched as a snowmobiler remotely triggered several shallow slides. Those slides ran from 100 to 200 feet.
"While skiing up the NW ride of Little Agnes, a snowmobiler topped out on ridge NW of my location," Scott Slamal wrote. "As the rider approached the ridge a series of three slides released remotely on a steep rocky southeast facing slope. The rider was approximately 100 to 300 feet from the release points. Nobody was caught in any of the slides."
Slamal photographed the snow slides through a stand of dead trees.
The avalanche danger in the Steamboat zone is rated "considerable" Monday, and Toepfer said the danger would likely persist.
"The current snowpack across Colorado is in a delicate state of balance," he wrote. "Before the last storm cycle moved across the state, the base layers of the snow were exceptionally weak. The new snow came in with significant wind and a high water content, meaning (it) was heavy and developed quickly into dangerous slides."
To reach Tom Ross, call 970-871-4205 or email tross@SteamboatToday.com