Are you setting resolutions to get in shape in 2014? Resolutions don't always last past January, but here's a little insurance that you'll stick with it, offered by Luke Geer, P.T., D.P.T., physical therapist and manager of the Physical Therapy Department at The Memorial Hospital.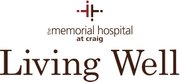 Getting Fit in and around Craig
When the weather is cold, exercising can be challenging outdoors. Geer suggests walking the mall: "I've heard that seven laps is about a mile." Here are a few other options near home:
Aging Well Exercise Classes
A variety of fitness classes for older adults from wheelchair to extra challenging. Classes run $3 a piece. Call the Northwest CO Visiting Nurse Association at 970-824-8233 for details.
Moffat County High School Pool – Open Swim
Open to the public during set hours (except when meets are in session). Enter at back door near locker rooms. Open swim hours: 7 to 8:15 p.m. Monday through Thursday, 1 to 4 p.m. Saturdays. $4 per session for adults, $3 for students. Punch cards available. 970-824-7036 for details.
Local Fitness Centers
Craig has several fitness centers, including Trapper Fitness & CrossFit, Breeze Street Gym, and Zumba Fitness. Each offers exercise classes and fitness solutions.
"When setting a resolution, don't just jump into an exercise program, give it some thought and pick an activity that you like to do that's going to work for you," advised Geer.
Say you hate running, but come Jan.1 you resolve to run every day to lose weight. Running is a great way to lose weight, unless you hate doing it. If you hate it, you may be able to tough it out a week or two, but eventually you'll find reasons not to run. The only way to effectively stick with a new exercise routine is to like it.
Find a physical activity you enjoy
Some things we do because they are fun, and we hardly notice that they are exercise. What are those activities for you? Skiing? Sledding with your kids? Swimming at the pool? Walking and chatting with neighbors? Whatever these fun activities are, do more of them. Let them be your exercise plan.
Make it routine
Once you find an activity you like, do it on a regular basis: "Health and wellness is a lifestyle change and needs to be incorporated into your everyday routine. Decide which days and times work best to exercise and put it on your weekly calendar. I like to get up early before my family wakes up and run or bike in the morning before work," Geer said.
He also suggests making it a group activity and exercising with a buddy, both of which create accountability and get you there when you are not sure you want to go.
The American College of Sports Medicine (ACSM) recommends you work up to at least 20 to 30 minutes of cardio exercise (where it's hard to talk while you do it) three to five times a week.
"Don't make your goals too lofty. Keep them measurable and achievable. Once you achieve your set goals you can create new ones to make it a little more challenging," he adds.
Practice patience
Remember, changes don't happen overnight. It is hard to be patient, but if you stick with your plan you will see positive changes over time.
"Don't expect changes in a few days. It can take a while to see the effects of your efforts. But if you stick with it you will see results. You'll notice increased energy and a overall sense of well being," Geer concluded.
If you would like a consultation with one of the physical therapists at TMH Rehabilitation Center, or need help recovering from an injury, call 970-824-5992.
This weekly article with tips on living well is sponsored by The Memorial Hospital at Craig – improving the quality of life for the communities we serve through patient-centered healthcare and service excellence.