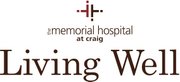 Lifeline through TMH
The Memorial Hospital helps individuals sign up for Lifeline. The hospital works with Medicaid and local human service organizations (e.g. Lion's Club, Rotary Club, Moffat County United Way) to provide the service free of charge to qualifying individuals. The service also can be purchased on a monthly basis for $35 per month or $42 per month with AutoAlert. Installation costs $35 and takes one hour, including a brief training.
For more information, contact:
Lifeline Program Coordinator
The Memorial Hospital at Craig
750 Hospital Loop
Craig, CO 81625
Phone: 970-826-3290
Fax: 970-826-3299
Email: richard.nichols@tmhcraig.org
Craig — If you have an aging parent or an elderly friend or relative, there's a good chance you worry about their well-being constantly. Is their medication in check? Are they safe? Did they fall? These worries may have you checking in several times each day or calling on the hour.
That's where a device called Lifeline comes in. Designed for individuals who live alone but may need assistance because of medical reasons or simple aging, Lifeline provides help at the push of a button.
"The hospital offers Lifeline as a service to individuals and families. Family members of individuals with advanced needs have peace of mind knowing that help is just a push of a button away. Having Lifeline lets people live more independently and stay in their homes," said Richard Nichols, emergency medical services director at The Memorial Hospital.
What's great is that Lifeline alerts you, the main caregiver or family member if your parent needs assistance, thus eliminating the need to worry or check in.
The device looks like an answering machine with a speaker, antenna and one large button. When pushed, a call is sent over the phone lines to a call center where someone is available to answer at any time, day or night. The subscriber's general information and health information pops up along with the names of three "on-call" helpers such as family members.
"The center finds out what kind of help the subscriber needs, whether it's a medical emergency, fire or a need for law enforcement. In cases where the caller can't talk, law enforcement is automatically sent and possibly an ambulance," Nichols said.
An ambulance is not sent every time. For example, if an individual slipped and simply needed help getting up, one of the helpers on the list may be called instead. A follow-up call is made 27 minutes later to ensure the subscriber received the assistance they needed. A total of 111 Craig residents have Lifeline.
"The device was created as a medical alert service, but it is used for much more," Nichols said.
Emergency responders appreciate it when people have Lifeline. They receive important information about how to enter the home, possible dangers and what medical issues the person might be experiencing.
"Lifeline definitely saves lives. It can be the difference between getting care immediately and waiting for hours, which makes an enormous impact on health outcomes. We have had patients remain in a paralyzed state for six hours before someone discovered them. I've seen that play out much more often than it should," Nichols said.
A relatively new add-on feature to Lifeline is AutoAlert for detecting falls. AutoAlert automatically calls when a person lies in a lateral position without moving for 30 minutes.
"TMH has been providing Lifeline as a service to the community for several years. Family members of subscribers tell me how thankful they are to have Lifeline for their loved one. It brings peace of mind to everyone involved," Nichols said.
This weekly column with tips on living well is sponsored by The Memorial Hospital at Craig, improving the quality of life for the communities we serve through patient-centered health care and service excellence.