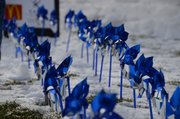 A seed to remind the public about child neglect and abuse was planted in Craig on Friday.
Connections 4 Kids, Moffat County Child Protection Team, Northwest Rocky Mountain Court-Appointed Special Advocates, McDonald's of Craig and Prevent Child Abuse Colorado teamed up again to plant a garden of pinwheels in Craig to advocate bright futures for children in Moffat County.
The Pinwheels for Prevention garden was created Friday morning in front of McDonald's, 1080 W. Victory Way. The blue and silver pinwheels will be on display through April 30, in observance of National Child Abuse Prevention Month.
Pinwheels for Prevention is a national signature campaign for Prevent Child Abuse America. The pinwheels represent efforts to change the way people think about prevention, focusing on community activities and public policies that prioritize prevention from the start to eliminate child abuse and neglect.
"It takes parents and the entire community working together to keep kids happy, healthy and safe," Prevent Child Abuse Colorado Executive Director Kendra Dunn said in a news release. "The pinwheel garden symbolizes our commitment to helping children thrive and achieve the bright futures they are meant to have."
In addition to Pinwheels for Prevention, Connections 4 Kids will host the Celebrate Children Festival from 10 a.m. to 2 p.m. Saturday at the Centennial Mall. Free pinwheels and information will be available from the early childhood council at the festival.