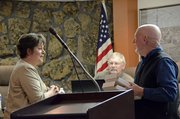 In other action...
During its regularly scheduled meeting Tuesday, the Craig City Council:
• Approved, 6-0, March 26 meeting minutes.
• Approved, 6-0, March bills of $485,069.45.
• Heard Shadow Mountain Village project update from Moffat County Commissioner Chuck Grobe and Moffat County Developmental Services Director Roy Tipton. The next Shadow Mountain community meeting is slated for 7 p.m. today (April 10) at American Legion Post 62, 1055 Moffat County Road 7.
• Approved, 6-0, resolution No. 11 to purchase real estate on Yampa Avenue for $85,000. The property will be used for Road and Bridge Department equipment and supplies.
• Heard Craig Police Department March month-end report.
— Council member Ray Beck was absent from Tuesday's meeting.
Craig — During a night that witnessed the transition of two Craig City Council seats, one longstanding member found himself accepting additional responsibilities.
After receiving the oath of office from Craig Municipal Court Judge Kevin Peck, Craig Mayor Terry Carwile and Craig City Council members Gene Bilodeau, Jarrod Ogden and Tony Bohrer took their seats with Don Jones and Joe Bird to address the night's business.
Council member Ray Beck was absent from Tuesday's meeting.
Among the items on the agenda were two appointments, one to the Associated Governments of Northwest Colorado Board of Directors and another for the position of mayor pro-tem.
Bilodeau was nominated to and accepted both positions. Had there been another appointment on the agenda, Carwile joked it also likely would have gone to Bilodeau.
"I'd be honored and glad to do that," Bilodeau said about the assistant mayor nomination. "If I get one more that will be a hat trick."
Bilodeau's nomination of assistant mayor came from Ogden, who was in the midst of his first meeting as a City Council member.
"He's just an outstanding person and, in my opinion, the most qualified for the job," Ogden said after the meeting. "He's on top of everything and he has great opinions about everything that's going on in Craig."
Ogden and fellow newcomer Bohrer replaced former council members Jennifer Riley and Byron Willems, who were honored by Carwile on Tuesday with plaques recognizing their years of service.
Riley said she's going to take some time off before she considers her next community service project.
"The last four years have been an amazing learning experience, but now I'm going to take a self-imposed six-month sabbatical to enjoy my life, my family and my job," Riley said. "I don't have any concerns about council and the city is lucky to have these guys up there."
Joe Moylan can be reached at 875-1794 or jmoylan@craigdailypress.com.