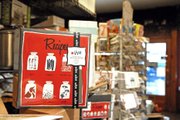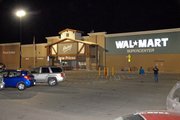 Quotable...
"I think that speaks to the type of employees and the type of people we have here in Craig. They're neighbors and friends, and they just aren't the kind of people to stage a protest or have fist fights."
— A Walmart employee in Craig, who asked to remain anonymous, about the retailer's Black Friday sale.
The official start of the Christmas shopping season began a few hours earlier this year when Walmart's corporate office announced it would begin its Black Friday sale at 8 p.m. Thanksgiving Day at stores all across the country.
The announcement sparked rumors of nationwide protests and by press time on Friday nearly every news agency from Miami to Seattle featured a report about an employee strike at a local Walmart.
More than 200 Walmart employees staged a protest in Chicago's Chatham neighborhood, 100 more outside of a Walmart in Paramount, Calif. and about 100 protesters greeted Black Friday shoppers at Walmart's Lakewood location.
Walmart's Black Friday sale was further tarnished with reports of uncontrollable crowds in Moultrie, Ga. and a reported parking space dispute that ended with two gun shot wound victims in Tallahassee, Fla.
But Walmart appears to have survived the sea of negative press and announced late Friday that 2012 marked its best Black Friday sale ever.
"The number of associates that have missed their scheduled shift today is more than 60 percent less than Black Friday last year," said David Tovar, Walmart's vice president of corporate communications, in a statement. "Press reports are now exposing what we have said all along — the large majority of protesters aren't even Walmart workers."
Though the local Walmart expects to join its sister stores in reporting improved sales figures over 2011, the scene at Craig's largest retailer was very different from its urban counterparts.
"We had a pretty big crowd here right at 8 p.m. yesterday (Thanksgiving)," said a Walmart employee in Craig who asked to remain anonymous. "But everything went off without a hitch and people treated each other well.
"I think that speaks to the type of employees and the type of people we have here in Craig. They're neighbors and friends, and they just aren't the kind of people to stage a protest or have fist fights."
While employees at the Craig Walmart were helping shoppers fill their carts with toys, sporting goods and electronics, downtown business owners were preparing for their official start to the holiday shopping season, Small Business Saturday.
Small Business Saturday takes place on the first Saturday after Thanksgiving, and falls between Black Friday and Cyber Monday, which feature sales at big box retailers and e-commerce stores respectively.
It was first conceived and endorsed by American Express in 2010 with the push to encourage consumers to spend $50 of their monthly budgets at independently owned small businesses in their communities.
Exactly 100 Craig businesses are participating in this year's Small Business Saturday. A list of those businesses can be found on American Express' web site.
Angi Hinkle, store manager at Samuelson True Value & Lumber, 456 Breeze St., said this is the first time the company is hosting a sale in her six years with the local business.
"With the economy the way it is it's tough enough to feed the family, let alone buy Christmas gifts," Hinkle said. "We're hoping to bring in some new faces we haven't seen before."
To attract Small Business Saturday shoppers Samuelson is conducting a bucket sale, Hinkle said.
The store will be selling five-gallon buckets and anything a customer can fit inside — that isn't already on sale — will be discounted 25 percent.
Samuelson is also having a 10 percent off sale on tools, Hinkle said.
Though Hinkle admits a hardware store may not be the first place people think about for holiday presents she said there are a number of unique items on the shelves that would make great gifts, including a Revolt inline folding scooter priced at $16.97, Redneck wine glasses for $9.99 and a 12-volt tire inflator with gauge, which doesn't cost customers a dime after a $15 mail-in rebate.
Over at The Kitchen Shop, 577 Yampa, owners Nadine and Mike Daszkiewicz also were gearing up for Saturday.
The Daszkiewicz's said they've already enjoyed a steady flow of business from customers searching for pie accessories, knives, beer brewing equipment and Soda Stream liquid carbonators, but by far the best seller this holiday season has been recipe boxes and binders.
"I have to reorder because people have been coming in to buy three or four recipe binders at a time," Nadine said. "It's not what I was expecting, but I think it's great people are looking for ways to hand something down — nothing beats your grandmother's recipes."
But holiday deals aren't exclusive to Craig's retail stores. Some local restaurants also are trying to take advantage of the shopping season.
Brett Etzler, co-owner of Carelli's Pizza at 465 Yampa Ave., said he usually doesn't open the restaurant during Thanksgiving Day weekend.
But after a water line broke and forced Carelli's to close for almost two weeks, Etzler decided to reopen on Black Friday and registered for Small Business Saturday.
In addition to its daily Italian fare, Etzler decided prime rib and Alaskan salmon would be appropriate dinner specials to compliment the start of the Christmas shopping season.
By 2 p.m. on Friday Etzler estimated his staff had already served about 75 people.
"It's been a real surprise to see such a good turnout today," he said. "I know a lot of people are out shopping, but I really wasn't sure.
"I'm shocked by the amount of people who've been in here. It's been really good."
Joe Moylan can be reached at 875-1794 or jmoylan@craigdailypress.com