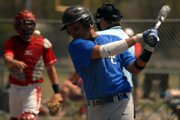 Quotable
"Just getting to travel and play the game I love is going to be pretty cool. It's going to be fun meeting new people and watching their work on the field and trying to compete on their level and see how I stack up."
— Carlos Maldonado, MCHS senior, about participating on the Under Armour Baseball Factory National Tournament Team
Finishing the 2011-2012 Moffat County High School varsity baseball season with a 4-14 record didn't dampen Carlos Maldonado's competitive spirit.
If anything, it made him hungrier for the opportunity to prove himself.
The day after the Bulldogs' final game of the season, the MCHS senior walked onto the field of Lakewood's Coca Cola All-Star Park ready to hit, field and do everything possible to show his talent for the sport.
And those watching took notice.
Maldonado was selected for the Under Armour Baseball Factory National Tournament Team, a summer program designed to enhance the skills of athletes ages 14 to 18. The organization hosts clinics year-round to evaluate young baseball players on their abilities in pitching, batting, base running and other game essentials.
The top participants are selected to move on to training camps and traveling teams.
Maldonado said competition — which also included his teammate, Bubba Ivers — was fierce at the event, with some of the best players in the state eager to impress.
"I think I really showed them my best stuff with my defense because I've really been improving on that," he said. "My batting was pretty decent when I was trying out too."
Maldonado said program organizers commended him for his proficiency at shortstop.
"They'll probably start me off there, maybe have me play second base sometimes too," he said.
Out of several venues for National Tournament Teams, Maldonado will participate in sessions with athletes during the Omaha National World Series June 15 to 20. Attendees will train with the top college level baseball players and compete within their own age as well as watch the ongoing tournament.
Maldonado said professional and college scouts frequent the games.
"I'm hoping maybe I can get a couple scholarships," he said. "They gave me a $500 scholarship to help pay for everything and I've got to do some fundraising, like people can donate $25 and it's called a base hit or $50 is a double."
Maldonado added he hopes to pursue the game for years to come, though he anticipates a lot of work.
"I really want to play at Northern Illinois (University)," he said. "I'm hoping to pick up a little bit of speed and work on my batting a little more this summer. During the off-season this year, I was working on speed conditioning and weights just to get in shape."
Tournament play isn't anything new for the MCHS Bulldog, who helped lead his team to the playoffs last season and competed at the state level with the Parks & Recreation program when he was in seventh-grade.
Maldonado said his ultimate goal would be to play professionally, preferably signing with the Colorado Rockies or the Texas Rangers.
Originally from El Paso, Texas, Maldonado has been playing baseball in Craig since the age of 10 and said he has loved every minute of it.
"I love this game and I want to go as far as I can in it," he said. "Just getting to travel and play the game I love is going to be pretty cool. It's going to be fun meeting new people and watching their work on the field and trying to compete on their level and see how I stack up."