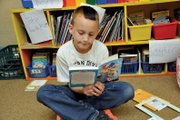 Quotable
"They love the play part of it — pretending to be the store manager or pretending to buy something."
— Julie Sperl, Sandrock Elementary School third-grade teacher, about Kid Town's appeal to students
At the ripe age of 9, Laadan Griffin was making his first foray into business ownership Monday.
He was the "L" in The B.Y.L Pet Shop, one of a handful of stores set up in Julie Sperl's third-grade class Monday at Sandrock Elementary School.
He and other third-graders took part in a simulation called Kid Town, designed to teach children about democracy and economics.
The B.Y.L Pet Shop sold fish, birds, dogs, cats "and sometimes platypuses, if we run out of stuff," Laadan said. Business was booming Monday.

By that afternoon, Laadan and his business partners had made more than $80, he said.
The money wasn't legal tender and his "pets" were made of paper, but it didn't matter.
He and other students still plunged into the simulation.
Every day, her students ask, "Are we going to do Kid Town today?" Sperl said.
Sperl teamed up with Michele Conroy, another Sandrock Elementary third-grade teacher, to host the simulation, which meshes with new content standards, Sperl said.
The concept is simple: Students create their own "town," complete with businesses and services.
Along the way, they explore democratic government, as well as the forces driving the local economy.
The unit is designed "to explain needs and wants (and) things that the community provides," she said.
Kid Town also highlights the dual nature of citizens as producers and customers, that "not only do we make things, but we consume things," Sperl said.
From the children's perspective, acting out the relationship between producer and consumer is one of the highlights of the unit.
"They love the play part of it — pretending to be the store manager or pretending to buy something," Sperl said.
On Monday, her classroom bustled as third-graders perused a variety of shops and services, including a grocery store and a public library.
Mackenzie Schneider, 9, walked away from The B.Y.L Pet Shop with a bargain.
She bought two fish and got a fish tank for free, she said.
She, too, knows how to dish out deals.
Buy an envelope at her post office and you get a piece of paper for free, she said.
Customer service was one of the lessons that stuck with her during the simulation.
"You've got to learn to be nice to the customers," she said.
Earlier field trips to local destinations like the Craig Fire/Rescue station, The Jungle Pet Shop and the City of Craig Parks and Recreation Department gave students a glimpse into the real community they were trying to replicate.
During the simulation, which began in April, students also researched careers that appealed to them.
The unit wrapped up Thursday with students' presentations on their findings.
They showed interest in a variety of professions, from teaching and firefighting to wildlife photography and architecture, Sperl said. In her estimation, Kid Town was a success.
"I think it went well," Sperl said. "I think they have a bigger sense of their community and what's available to them."
Click here to have the print version of the Craig Daily Press delivered to your home.