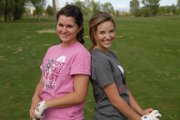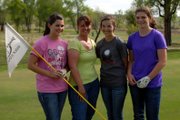 At a glance…
• Moffat County High School girls varsity golfers Sam Fox and Caitlin Harjes will compete in the 4A state tournament Monday and Tuesday in Greeley.
• Fox, a senior, tied for 73rd place in last year's competition.
• Harjes, a sophomore, is facing her first year at state.
Quotable
"I just want them to be able to go out there, play the best rounds they've played all season and enjoy it because it's a unique, exciting experience and not everybody gets to do it."
— Ann Marie Roberts, MCHS girls varsity golf coach, about the two golfers from her team competing in the state tournament
In spring 2011, Moffat County High School golfer Sam Fox was the youngest of three varsity girls golfers to attend the season's final tournamnet.
Fox will be returning to the state level next week, but this time the MCHS senior will be the more experienced representative of her team to attend.
Fox and sophomore Caitlin Harjes will tee off Monday at Greeley's Boomerang Links for the 4A state tournament, the final meet of a season in which, according to their coach, both consistently have improved their game.
Coach Ann Marie Roberts said Fox's fundamentals are noticeably stronger from where they were last year.
"Sam has a lot more confidence, and her swing is better," she said. "She's tuned it a lot better so she knows she's got a lot more control. When you get out there your nerves are flying, so if you're confident with what your swing is, you're better off."
Roberts added that if Fox attains her personal goal — shooting under 90 in each round of the two-day event — she could place in the top 10.
"She could medal, I know she has the potential to do that," she said.
Roberts added her expectations as just as high for Harjes, who nearly qualified for state last season, only to be knocked out in a playoff round at the regional meet.
The main obstacle for the younger golfer will be approaching the tournament for the first time.
"I'm hoping she can get the confidence she needs at state," Roberts said. "Once you go there, you know what to expect, and then after that, she's still got the next two years and that makes a big difference. I just want them to be able to go out there, play the best rounds they've played all season and enjoy it because it's a unique, exciting experience and not everybody gets to do it."
Practices for the week have been heavy on chipping and putting, particularly on Yampa Valley Golf Course's larger greens, the size Fox and Harjes can expect to see in Greeley.
"The long putts are going to be important," Roberts said. "Their swings are there, they just need a little fine-tuning. (Boomerang) is a little longer course than we're used to here."
Neither girl has played at Boomerang before.
"It sounds like it's kind of like (YVGC), just a little different," Harjes said. "It just depends on the day, really."
Fox said the layout of the course could make parts of the game easier.
"The narrowness of it could really help, especially on the fairway," she said.
Fox and Harjes placed 10th and 12th, respectively, at the regional meet, with a 98 and a 101. Much of the competition at the regional meet came from Rifle, Montrose and Glenwood Springs, but teams hailing from other parts of Colorado will be tough, as well, if not tougher.
"The teams on the (Front Range) are always better than us," Harjes said. "They've had a lot more practice than us."
Fox competed in last year's state meet in Pueblo, along with then-seniors Nike Cleverly and Callie Papoulas, shooting a combined 216 over two days and tying for 73rd.
"The second day I shot a 108 and nothing really clicked that day," she said. "I think it'll be easier to play two days this time. We'll have a practice round Sunday to kind of figure out the course, too."
Fox has played at the high school level longer, but Harjes has been around the local links for most of her life, first picking up a club at the age of 5. Though the two of them have about the same amount of total experience, Harjes said she hopes to draw wisdom from her teammate that she can pass on to other golfers in the future.
"I'm going to try and be like Sam has been this year and just try to keep the girls close next season," she said. "She's always friendly and I feel like I can talk to her and she's really been my upperclassmen mentor. It's just nice to have her around and it's been a lot better with her."
Click here to have the print version of the Craig Daily Press delivered to your home.