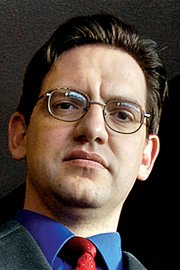 In other action ...
At its regular meeting Tuesday, the Moffat County Commission:
• Approved, 3-0, hiring a part-time seasonal employee for the fairgrounds department.
• Heard monthly road and bridge reports.
• Approved, 3-0, waiving the bid process for 270 feet of pipe at a cost up to $35,000 to replace a culvert on First Street.
• Heard a Shell drilling update from Matt Holman, Kelly Heaney and Gina Hinkemeyer.
• Approved, 3-0, a conditional use permit for Reinier Taxidermy.
• Approved, 3-0, a conditional use permit for Schonwald Land, Inc., to conduct 2D seismic mapping on behalf of Gulfport Energy.
• Approved, 3-0, an airport apron rehabilitation plan construction safety and phasing plan.
Signs pointed to the Moffat County Commission making a decision Tuesday on Jeremy Snow's successor as Moffat County attorney.

Snow and the commissioners were scheduled to enter into executive session to discuss and hire one of two candidates for the position.
But when Snow arrived, he told the commission one of the applicants withdrew from consideration last week.
"I was prepared last week to come in today and offer the job to the person who withdrew their application," commissioner Tom Gray said. "We need to sit down and discuss our options."
A workshop was scheduled for 10 a.m. today at the Moffat County Courthouse, 221 W. Victory, for officials to explore ways to expand the applicant pool.
The workshop will be attended by the commissioners, Snow, Lynette Running of human resources, and Marie Peer, Department of Social Services director.
The commission had been advertising for the position locally and commissioner Audrey Danner said it might be time to play off the strategies of the 14th Judicial District Attorney's Office, which has been successful in attracting prosecutors to the area.
"We've not advertised in the Colorado Lawyer before and the D.A.'s office has been able to get successful applicants through that," Danner said. "I hate to keep (the other applicant) waiting, and it's not that she is a bad applicant, but she has a different skill set than what we need, so I think this is appropriate."
Snow, whose last day as Moffat County attorney is June 1, is moving to the Salt Lake City area, but plans to continue practicing in Moffat County.
Snow will be establishing a private practice through Romney Law Office, 415 W. Victory Way, where he plans to specialize in oil and natural gas leasing, property law, civil litigation, and criminal defense.

"I truly do enjoy the area and I've made it clear that I am willing to stick around and help with the transition process as much as I can," Snow said. "Since I'll be splitting my time I should be able to help out after the fact."
Click here to have the print version of the Craig Daily Press delivered to your home.