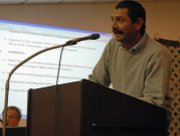 Craig City Council meeting
When: 7:30 p.m.
Tuesday
Where: Craig City Hall, 300 W. Fourth St.
Agenda:
• Roll call
• Pledge of Allegiance and moment of silence
• Approve April 24 meeting minutes
• Approve April bills
• Approve agenda
• Consent agenda:
— Approve the renewal of a retail liquor store license for Lariat Lee Liquors at 544 Legion St. No cause shown for denial.
— Approve a 3.2-percent beer retail license for Mini Mart, Inc., dba Loaf N' Jug, at 2441 W. Victory Way. No cause shown for denial.
— Approve the renewal of a hotel and restaurant liquor license for Carelli's Pizzeria. No cause shown for denial.
• Audiences:
— Public hearing to consider granting a hotel and restaurant liquor license to Victor Tarango, dba Tarango's Night Club, at 535 Green St.
— Proclamation declaring May 2012 as Higher Education Month.
• Other business:
— Moffat County Tourism Association to request funding for the Norman Rockwell window art program — Further discussion and possible action on participation in the National League of Cities service line warranty program • Staff reports: — Craig Police Department monthly report for April.
• City manager/city attorney reports
• Council reports
• Audience comments
Adjournment
Steamboat Springs resident Victor Tarango will appear Tuesday before the Craig City Council, the second time in just more than a month the aspiring nightclub owner has come before the governing body.
Tarango is seeking to open a club bearing his name at 535 Green St.
But, in late March his proposed enterprise hit a snag when city council members denied his application for retail gaming and liquor licenses, citing false information submitted on his applications.
When asked to report previous criminal convictions or suspensions of driving privileges, Tarango allegedly marked "no" two times.
A criminal background check conducted by the Craig Police Department revealed Tarango's brushes with the law.
In 2000, he was reportedly arrested on suspicion of driving under the influence and was later convicted of driving while ability impaired.
His license was suspended for 30 days and he served a year of unsupervised probation.
Later that same year, Tarango had his license suspended for failure to pay child support.
His license was suspended two more times, in 2001 and 2010, for the same reason, according to the police department's report.
Citing the discrepancies, council members unanimously denied his application, but clarified he could reapply in the future.
On Friday, Craig City Manager Jim Ferree said Tarango reapplied for tavern and gaming licenses less than 24 hours after his initial application had been denied.
Despite comments by council members that they would be open to granting Tarango's application if he reported accurate information, Ferree believes the aspiring business owner may have additional hurdles to overcome.
"I don't know for sure, but the word on the street is there is a citizen petition going around against the nightclub," Ferree said. "If that's the case, it could make for an interesting meeting."
Click here to have the print version of the Craig Daily Press delivered to your home.