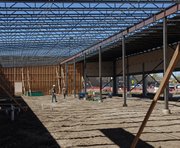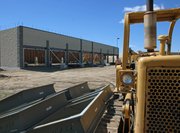 Quotable
"We were supposed to turn it over to (the tenants) in June, but because of the weather and the winds and everything we're about a month behind. It looks like we'll probably open in the middle or the end of July."
— Stephen Tebo, of Boulder-based Tebo Development
In December 2011 Stephen Tebo, of Boulder-based Tebo Development, announced plans to build a 10,477-square-foot retail complex in Craig.
Tebo Center, slated to be the new home of Maurices women's clothing store and Alabama-based Hibbett Sports, was scheduled to be open for business this month.
But as of Friday, only the building's exterior walls appear to be in place.
Progress has been slow, Tebo said Friday, and a grand opening has subsequently been pushed back until later this summer.
"We were supposed to turn it over to (the tenants) in June, but because of the weather and the winds and everything we're about a month behind," Tebo said. "It looks like we'll probably open in the middle or the end of July."
Despite the delay, Dave Costa, Craig building inspector, said he has received and is in the process of reviewing tenant improvement drawings from Maurices for its 5,000-square-foot share of the development.
Hibbett Sports, which will occupy 4,000 square feet of retail space, has yet to do the same, Costa said.
Tebo is still in the process of courting a third tenant to lease the final 1,477 square feet of retail space.
"We're currently talking with three potential tenants, but I can't say who…not without a signed lease," Tebo said.
Tebo Center, located on Lot 6 on the east side of the Walmart subdivision at 1830 W. Victory Way, is Tebo Development's first venture in Northwest Colorado.
And barring another premier opportunity, Tebo said it would likely be the last.
"When you have a prime, prime spot next to a Super Walmart that has a 50-mile trade area, then we'll pick up something like that," Tebo said. "But, we're not looking to invest in normal buildings or anything like that."

When it comes time for a debut, Tebo said it's his policy to allow tenants to take center stage.
However, he is excited to show off the latest in building design and amenities.
"Those stores will feature the latest upscale fixtures and merchandise," Tebo said. "I think it will be a great addition to Craig."
Click here to have the print version of the Craig Daily Press delivered to your home.