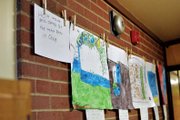 At a glance ...
• Cheryl Arnett's first-grade class at Sunset Elementary School is learning about water sources and conservation with other students from Brazil, India, Saudi Arabia and Taiwan.
• Lessons included a visit to the Craig Water Treatment Plant in early December 2011.
• First-graders are also learning about water rights and the impact beavers have on water sources, among other topics.
• Arnett's students will continue the unit next year.
Quotable
"We are part of this earth and part of the world. That's big for little guys."
— Cheryl Arnett, Sunset Elementary School first-grade teacher, about what she hopes her students will learn during a two-year Water of the World project.
How does water get from the river to the tap?
Finding the answer to that and other water-related questions has transported a group of Sunset Elementary School first-graders across the world — virtually, at least.
With help from the Internet, Cheryl Arnett's students are learning about water sources, water rights and conservation with students from around the globe.
Arnett's trip to Washington, D.C., in November 2011 planted the seed for the Water of the World project. There, she attended the Partners in Learning Global Forum, where she collaborated with teachers from Brazil, India, Saudi Arabia and Taiwan to create a multi-faceted learning project.
Her students and those of her global counterparts are now carrying out the lesson together. One of its main components is learning where water comes from, which for Arnett's students included a trip to the Craig Water Treatment Plant in early December 2011.
"We realized that we had a wonderful source of water (in the Yampa River) and … we're very, very fortunate to have this wonderful place to clean our water," she said.
However, the first-graders are learning there's more than one way to get a cold glass of water.
Taiwanese residents gather rainwater while Saudi Arabians use desalinated seawater, Arnett said.
Her students can connect with their counterparts in other countries to see how water shapes their lives and landscapes.
"We actually got videos from Brazil where … it showed the students hiking through the rainforest to this beautiful pond with a waterfall, and my kids were just amazed by the vegetation and what that looked like," Arnett said.
Shout Learning — a collaboration between the Smithsonian Institution, Microsoft Partners in Learning and TakingITGlobal, an online learning network — was an inspiration for the project.
The program offers webinars and resources that are available to all teachers, she said.
Her students learn about water cycles and water rights, yet the lessons also merge into more nuanced topics.
One lesson explored the impact beavers have on water sources, which led to a real-life lesson in exploring different viewpoints.
Students learned that while the beaver's activities at Loudy-Simpson Park are destructive in human eyes, "there was a purpose for that," at least from the animals' point of view, Arnett said.
The teacher brought in local ranchers, Colorado Division of Wildlife representatives and Moffat County Commissioner Audrey Danner to speak about differing perspectives on how the animals impact water uses.
Arnett said her students concluded humans and beavers are similar in that each need water, and how each uses it has implications downstream.
"The beaver needs (the water) for a home for its family, but down the river is a rancher who needs it to irrigate, and that made the issue understandable for children," she said.
Lessons also touch on water conservation, which Arnett believes is a crucial subject now and in the future.
"It's a topic that the kids need to know about," she said.
This year's water-themed unit follows a project Arnett's class completed last year, which got students to examine the local deer population and its impact on the community.
These kinds of projects are an example of what Moffat County School District officials hope to see as the district aligns its curriculum to revamped state academic standards, Sunset Elementary Principal Zack Allen said.
"The standards didn't just change in content," he said. "They changed in philosophical basis," placing an emphasis on concepts.
"She's a little ahead of the game," Allen said of Arnett, who also serves on the school district's curriculum alignment team.
"…This sort of project-based learning is more in line with the direction we're trying to go," he said.
Since Arnett teaches on a two-year loop, she will continue the project when she follows her class to second grade next year, she said.
Her ultimate goal throughout the project is to take "something that's a global issue and (bring) it home for the kids so that they understand that it's not just the problem of those people over there. It's not a faraway thing," she said.
She hopes her students learn "that we are part of this earth and part of the world," she said.
"That's big for little guys."
Click here to have the print version of the Craig Daily Press delivered to your home.