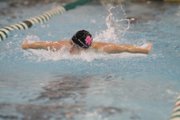 Quotable
"I finished 10th last year in the NCAA Championships, so I definitely think having been there before helped me know what to expect. I was more in control of my nerves going in and I think it was a good way to set me up going into the Olympic Trials."
— Kelsey Conci, a 2008 Moffat County High School graduate and senior at University of Wyoming, about competing at the NCAA Championships in March.
Caitlin and Kelsey Conci took similar paths to this point in their lives.
As seniors in college — Caitlin at the University of North Dakota and Kelsey at the University of Wyoming — both girls wrapped up their collegiate swimming careers in the past month.
The twin sisters, who graduated in 2008 from Moffat County High School, swam together as Bulldogs and kept in contact the past four years while living in different states.
But, with college swimming over, now is when Caitlin and Kelsey, 22, go in different directions.
Caitlin is turning her focus toward graduate school and earning her master's degree in rehabilitation counseling while Kelsey continues to train for the 2012 Olympic Trials, which take place June 25 to July 2 in Omaha, Neb.
"I was definitely ready to move on and I haven't been in a pool since the season ended about a month ago," Caitlin said. "I love swimming, but I am in a different place in my life right now. It was hard to balance grad school and swimming, so now I want to focus on getting my master's degree."
However as far as final seasons go, Caitlin said she couldn't complain.
The Fighting Sioux swimmer took 10th place in the 100-yard butterfly at the Western Athletic Conference Swimming and Diving Championships, held Feb. 22 to 25 in San Antonio, Texas, posting a career best time of 56.35 seconds.
Caitlin also swam the butterfly stroke as part of the 400-yard medley relay, helping lead the team to an eighth-place finish.
"I got my best times in most of my events, so it was a great way to end my swimming career," she said. "I didn't accomplish all the goals I wanted to, but I am happy overall with the improvement I made this season."
Heading into her final season, Caitlin said every practice and meet took on a new meaning.
"It was so different than before because everything I did was going to be my last time or my last opportunity," she said. "It gave me a lot of motivation and I switched up my training style this year. I went hard at everything I did this season."
for Kelsey, the final collegiate season wasn't so much about nostalgia as it was about moving onto the next stage.
"It's weird because I don't feel like the season is over because I still train with my team and still know I have to compete," Kelsey said. "I don't think I will realize it until I don't have any more meets to compete in, but then it will all come at once."
Kelsey, who qualified in the 100-meter backstroke for the Olympic Trials in 2010 and again in 2011, had a chance to hone her best event even more this season.
The Cowgirl senior competed in the NCAA Championships from March 15 to 17 in Auburn, Ala., taking ninth-place overall in the 100-yard backstroke with a personal best time of 52.13 seconds.
Kelsey's time was also a new Mountain West Conference and University of Wyoming record.
Her finish earned her a second consecutive Honorable Mention All-American award, the first Cowgirl swimmer to accomplish such an achievement.
"I finished 10th last year in the NCAA Championships, so I definitely think having been there before helped me know what to expect," she said. "I was more in control of my nerves going in and I think it was a good way to set me up going into the Olympic Trials."
Kelsey, who is majoring in social sciences, said the Olympic Trials may be the more prestigious meet, but the NCAA Championships may actually be faster.
"It is harder to qualify for the NCAA Championships because you can swim a qualifying time, but not be invited," she said. "Plus, there are a lot of foreign athletes who swim for U.S. colleges who can't swim at our Olympic Trials. A lot of those athletes have already qualified for their Olympic team in their home countries."
With the collegiate meets out of the way, Kelsey said she is training even harder heading into the Olympic Trials, working on her technique and keeping in shape.
Kelsey is ranked 12th in the nation in the 100-meter backstroke, but only the top two in the event will swim in the Olympics in August.
With a personal best of 1 minute, 1.7 seconds, Kelsey estimated she would probably need around 59 seconds to be in contention.
"It is going to take a lot of work, but it is definitely possible," she said. "The trials are going to be a new experience for me and probably the biggest meet I have ever competed in. I'm not sure what to expect, but I will have four other teammates there to keep my nerves down."
Caitlin said she will miss competing on a regular basis, but she doesn't think she is done competing altogether.
"I still love to compete, it's the best part of swimming," she said. "It was a great experience to swim all four years and I would not give it back at all."
Click here to have the print version of the Craig Daily Press delivered to your home.