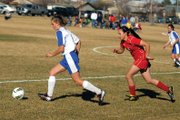 Results ...
Box score from the Moffat County High School girls varsity soccer team's game Friday against Steamboat Springs High School at Woodbury Sports Complex:
(Team — 1st half — 2nd half — final)
• Moffat County — 0 — 0 — 0
• Steamboat Springs — 3 — 2 — 5
There was no lack of physicality Friday in the Moffat County-Steamboat Springs girls varsity soccer game at Woodbury Sports Complex.
The Bulldogs got into an early hole in their home opener and the Steamboat defense suffocated Moffat County's offense in a 5-0 loss, the second loss of the season to the Sailors.
"There was a lot of pushing and shoving and it takes its toll on the girls," Bulldogs head coach Harry Tripp said. "That is not the way we play, we don't go through someone. And when we got upset, we didn't play good."
The Bulldogs (0-6 overall, 0-4 Western Slope League) controlled the ball much of the second half, but couldn't overcome a 3-0 hole.
Steamboat (6-1 overall, 3-1 WSL) scored three goals in the first 22 minutes of the first half, the first by sophomore Alice Holmquist and the next two by senior Sydney Bauknecht.
"I think our defense did a good job, especially in the second half, where Skylar (Tripp) hardly touched the ball," Harry said. "Possession wise, we controlled the middle of the field and won that area like we wanted to.
"But, if we gave up a bad pass, we shut down and (Steamboat) was off to the races with an easy goal."
Steamboat head coach Rob Bohlmann said his team played inconsistent ball in the first half, but had enough individual moments to overcome it.
"Our cohesiveness as a group and engagement off the ball is where we struggled," he said. "We played a little flat and didn't take care of the little details and weren't as sharp as we should have been. But, Alice held down the mid-right field and helped set up our first couple of goals."
In the second half, Steamboat sophomore Kelbi Rogers scored a goal in the opening minute and sophomore Alexis Len scored on a breakaway with less than 10 minutes to go.
Bohlmann said there wasn't one area of the Sailors game that won the game, but rather the team as a whole.
"It was more of a bigger picture type of win for us," he said. "There was no specific area better than the others. We had a pretty good defensive effort and our forwards built off that."
The loss was the second in as many days for the Bulldogs, as Moffat County fell, 4-0, Thursday at Battle Mountain.
Harry said fatigue got the best of his team in the second half.
"We had a tough battle (Thursday) and then we had to come back and play another good team (Friday)," he said. "I think our forwards had tired legs after getting about 20 shots against Battle Mountain and we didn't have the depth coming off the bench we usually have because of injuries.
"Overall, we did good, but we have some things we need to keep pressing on."
The Bulldogs are off until April 10 when they host Palisade at Woodbury Sports Complex while the Sailors play at 11 p.m. today in Delta.
Click here to have the print version of the Craig Daily Press delivered to your home.