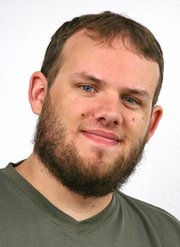 Weekend movie show times
West Theatre
29 E. Victory Way
824-2000
"Wrath of the Titans 3D" — Rated PG-13; 7 and 9:05 p.m. Friday and Saturday, 4 and 7 p.m. Sunday
"The Hunger Games" — Rated PG-13; 7 and 9:30 p.m. Friday and Saturday, 4 and 7 p.m. Sunday
Tickets: $7 for ages 10 and older, $5 for ages 9 and younger; $9 and $7 for 3D features
Sunday matinee: $5 for ages 10 and older, $4 for ages 9 and younger; $7 and $6 for 3D
Submit your event
Submit your event's details for consideration by emailing them to editor@craigdaily... or calling 875-1791.
As we make the progression from late season snow to sunny-but-gusty days, it's nice to get out and about, and this weekend is the time to do it.
Just be careful you don't get swept in any sudden windstorms because as we've seen so far this week, even living in the mountains doesn't prevent us from being on the receiving end of some big breezes.
• If you're looking for a paycheck, you'd best find your way to this next event.
The Craig Daily Press and Colorado Northwest Community College co-host the 2012 Moffat County Job Fair. Running from 2 to 7 p.m. Friday at CNCC's Craig campus, 2801 W. Ninth St., representatives from local businesses like Holiday Inn, Wendy's, Victory Motors and more will be meeting with prospective employees.
You could land yourself an interview right away at one of these booths, so be sure to dress appropriately.
For more information, call the Daily Press office at 824-7031.
• If it's springtime in Northwest Colorado, the place to be is Centennial Mall for the event of the season.
Radio station KRAI hosts the 29th annual Spring Expo all day Friday and Saturday at the mall, 1111 W. Victory Way. From noon to p.m. Friday and 9 a.m. to 4 p.m. Saturday, you can check out an array of new products coming out for customers looking for home improvement, motor homes and many other markets.
And if you're not in a buying mood, you're still guaranteed a good time with weenie dog races and Diaper Derby baby races, both on Saturday. Register by 9 a.m. for the dogs and 11 a.m. for the babies, or just sit on the sidelines and cheer.
For more information, call 824-6574 or visit krai.com/spring-expo.
• If you've had enough of being in the audience watching others perform, this weekend is your chance to be on stage yourself.
Audition for the Craig Concert Association's annual talent show from 10 a.m. 2 p.m. Saturday at the Moffat County High School auditorium, 900 Finley Lane. Tryouts for the April 21 show are open to anyone, so break out the old guitar, warm up your vocal cords or slip on your tap shoes.
And if you're really talented, you could attempt all three at the same time. Come on, give it a try!
For more information, call 824-8326.
• Next week means a lot of free time for kids in the area, which usually translates to one day of fun and six of whining about boredom.
Keep your children entertained during Spring Break with arts and crafts classes at the Wyman Museum, 94350 E. US Highway 40. Starting Monday, kids can learn the ins and outs of several subjects, including pottery, watercolors, scrapbooking, sewing and more for all ages, as well as blacksmithing for ages 12 and older.
Prices for each class and the supplies involved vary. Space is limited, so be sure to sign up quickly.
For more information, call 824-6346.
• Mythological monsters run amok at the West Theatre with "Wrath of the Titans 3D," but there's nothing scarier than kids who have nothing to lose. In other words, if you haven't gotten to "The Hunger Games" yet, it's a must-see for all.
DVDs out for the week range from fun to heavy with the kiddy feature "Alvin and the Chipmunks: Chipwrecked" squaring off against the 9/11 tearjerker "Extremely Loud and Incredibly Close" as the two hit stores.
Redbox offers "A Dangerous Method," a drama about the father of psychology, as well as the spotlight on Bosnia, "In the Land of Blood and Honey," the directorial debut of Angelina Jolie.
And, if you're into low-key creature features, be sure to rent "Camel Spiders," sure to terrify arachnophobes of every type.
Click here to have the print version of the Craig Daily Press delivered to your home.