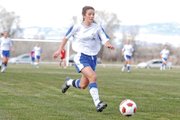 Results ...
Box score from the Moffat County High School girls varsity soccer team's game Friday at Grand Valley High School:
(Team — 1st half — 2nd half — final)
• Moffat County — 0 — 1 — 1
• Grand Valley — 2 — 1 — 3
MCHS leaders:
(Name — goals — assists)
• Kelly Ciesco — 1 — 0
• Frida Meijer — 0 — 1
MCHS goalie statistics:
(Name — goals against — saves)
• Skylar Tripp — 3 — 33
The Moffat County High School girls varsity soccer team got its first goal of the season Friday against Grand Valley, but not much else went right for the Bulldogs.
Poor passing and mental mistakes paved way for the Grand Valley offense to put 36 shots on goal en route to a 3-1 victory over MCHS.
"I thought we played horrible," head coach Harry Tripp said. "We couldn't pass the ball and fundamentally, we had four or five bad throw ins. It was the basic stuff like not putting our foot down when passing in and passing the ball to the other team that cost us, and I don't really have an answer why we couldn't do the fundamentals."
Harry, who said he is usually level headed when things go wrong, had to try something different at half time.
"At the half, I literally chewed into them and I don't like to do that," he said. "I think the way they played in the first half shows they are not committed and aren't taking practice seriously. Come Monday, I will be the coach who makes them run.
"Fundamentally, we should have beat (Grand Valley) because we had a good week of practice and worked on being patient and shooting, but we didn't execute."
The Bulldogs (0-4 overall, 0-2 Western Slope League) trailed 2-0 after the first half and Harry said the girls came out in the second half with a little more fight in them.
Senior Kelly Ciesco scored the first goal of the season for the Bulldogs on an assist from fellow senior Frida Meijer to pull within one.
But Grand Valley answered right back with a little help from the wind to make the score 3-1.
"You could see the goal lifted the girls' spirits a little and they started playing better and I thought we had the monkey off our back," Harry said. "But (Grand Valley) had a shot that carried in the wind and went just over (goalie) Skylar (Tripp's) fingertips. After that, we just didn't get any good quality shots and gave up easy saves."
MCHS had only 18 shots on goal Friday.
Harry said Skylar did a phenomenal job in the net, only allowing 3 goals on 36 shots, but the Bulldogs defense didn't do her any favors.
Junior Bailey Hellander was moved from defense up front to help provide more offense, Harry said, but it didn't work out the way he planned.
"We wanted more offense, but it totally back fired," he said. "Our defense wasn't on their toes and played flat-footed. It was a hard surface and a little smaller field than ours, so the ball bounced more and definitely carried."
The Bulldogs travel Thursday to Battle Mountain High School to take on the Huskies in Western Slope League play.
In the three days of practice before the next game, Harry said the girls have to work on some fundamentals to turn their game around.
"We need to work on communication and passing," he said. "We have too much dribbling and need to get to passing quicker. If we have a turnover we give up, and passing more will help that."
Note: The MCHS girls junior varsity soccer team tied Grand Valley, 2-2, on Friday.
Click here to have the print version of the Craig Daily Press delivered to your home.