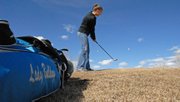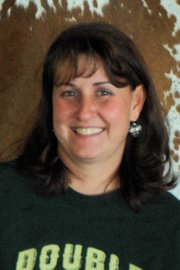 Team at a glance ...
Coach:
• Ann Marie Roberts
Returning golfers:
• Senior Samantha Fox
• Sophomore Caitlin Harjes
• Junior Alex Bulla
• Sophomore Shianna Dockins
• Freshman Katelyn Peroulis
• Freshman Katie Rice
Schedule ...
Remaining 2012 Moffat County High School girls varsity golf schedule:
(Time — date — place — event/location)
• 9:30 a.m. — March 26 — away — Fruita Monument Invitational at Adobe Creek Golf Course
• 11 a.m. — April 10 — away — Montrose Invitational at Black Canyon Golf Course
• 9 a.m. — April 11 — away — Montrose Invitational at The Bridges Golf Course
• 9 a.m. — April 18 — away — Glenwood Springs Invitational at The Hill Golf Course
• 10 a.m. — April 25 — away — Gunnison Invitational at Dos Rios Golf Course
• 10 a.m. — April 26 — away — Delta Invitational at Devil's Thumb Golf Course
• 10 a.m. — April 30 — home — Moffat County Invitational, Yampa Valley Golf Course
• 9 a.m. — May 1 — away — Rifle Invitational at Rifle Creek Golf Course
• TBA — May 7 — away — 4A regional tournament at Dos Rios Golf Course
• TBA — May 8 — away — 4A regional tournament at Dos Rios Golf Course
• TBA — May 21 — away — 4A state tournament at Boomerang Golf Course
• TBA — May 22 — away — 4A state tournament at Boomerang Golf Course
In May 2011, Moffat County High School golfer Caitlin Harjes was in a sudden death playoff at regionals in Battlement Mesa.
A freshman at the time, Harjes was competing against a girl from Gunnison High School.
A trip to the state tournament at Elmwood Golf Course in Pueblo was on the line.
"I went to regionals and I did not do well during the playoff," Harjes said. "I was freaking out that everyone was staring at me."
Despite the nerves, Harjes guided her drive down the fairway.
Ann Marie Roberts, going into her 10th year as MCHS girls golf coach, met Harjes at her ball.
With her freshman safely in the fairway, Roberts walked off to help MCHS senior at the time, Nike Cleverly, who was also involved in a playoff on the adjacent hole.
Harjes was instructed not to take her next shot until Roberts returned.
Harjes did as she was told, until the Gunnison coach pressured her to hurry up.
"The other coach came up to me and told me to go ahead and get ready," Harjes said. "I told her I was waiting for my coach, but she pushed me to a point that I ended up hitting my ball and it went the wrong way."
When Roberts returned she was livid.
"I was so mad about that, I couldn't believe it," Roberts said. "It was a really poor example of sportsmanship."
Harjes was unable to salvage the hole. She lost the playoff and an opportunity to compete at state.
But Harjes doesn't dwell on how the 2011 season ended. She's chalked it up as a learning experience and something to build off of going into the 2012 season.
"It was a sad moment for me, but I think the playoffs taught me a lot about golf and how to handle those situations," Harjes said.
When asked how she would conduct herself when faced with similar circumstances in the future, Harjes replied, "don't listen to other coaches, stand my ground and wait for my coach."
Now a 15-year-old sophomore, Harjes finds herself in a unique leadership role as one of only two returning players.
In addition to building off her best score of last season — an 85 at Cobble Creek Golf Course in Montrose — and aspirations of competing at state, Harjes said her goal is to build strong bonds with a slate of newcomers, the same way returning senior Sam Fox brought her into the fold year.
"I kind of get to be that senior because I've been there before and know the rulings and things. It also makes me aware that I don't want to shut those girls out because I knew how hard it was for me last year," Harjes said. "Sam did a good job of bringing me in and now I feel like it's my turn."
In February, after just two days of practice, Roberts said the team was gelling faster than her teams in the past.
"Being a small team they're really a tight-knit group," Roberts said. "I think we have the potential to do really well this year based on what I know is out there and the improvement I've seen in just two days."
Where Harjes is focused on building a positive team atmosphere, lone returning senior Sam Fox, 17, knows it's up to her to set the tone on the links.
Fox broke 100 a few times last season, which was one of her main goals, and competed in the state tournament.
The lessons she learned playing on high school golf's top stage were indispensable, Fox said.
"State was really fun," Fox said. "I enjoyed playing a course I had never played before and seeing how other people, like from the (Front Range), play.
"I feel like I have a good advantage going into this season and its nice to have everyone else look up to me."
Fox plans to make 2012 her best season because it's her last at MCHS. She's set high expectations for herself and hopes to consistently card rounds in the high 80s.
With her most seasoned player dedicated to such a high level of play, Roberts is confident her younger players will follow Fox's lead.
She expects to be a serious contender in May when the team travels to Dos Rios Golf Club in Gunnison for the 4A regional tournament.
"We won it in 2010 and could have taken the trophy home last year," Roberts said. "We won all of our matches but one. The match we lost was to a girl who was on a totally different level. She was 13 strokes lower than the rest of the field, and we just couldn't make up the points."
Although her two freshmen are new to competitive golf, Katie Rice, 14, and Katelyn Peroulis, 15, have taken private lessons from Roberts in the past.
Because of their previous relationships with their coach, neither Rice nor Peroulis are bashful about what they want to accomplish in their rookie seasons.
"I want to shoot low scores and go to state," Rice said. "That would be so cool."
"So do I," Peroulis added. "Going to state my first year would be awesome."
Click here to have the print version of the Craig Daily Press delivered to your home.