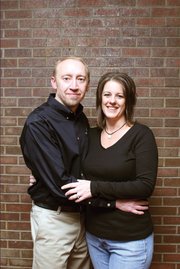 In their words ...
David and Julie Dempster and their two children, Brynnae, 14, and Ethan, 11, expressed their gratitude to the community in a letter published in the March 2 Craig Daily Press. The full text of the letter, meant for their many friends in the community, is included below:
We tried to let as many people as possible know about this in person, but we learned how fast news can travel in Craig.
We are moving to Minnesota.
It was a monstrous decision, and not in one bit made lightly by the four of us. We looked at it from every angle possible over and over, and made lists of pros and cons, but the answer kept coming back the same.
It's the kind of opportunity we'll forever regret if we pass it up.
What was evident right away and what will be the reason for us driving away with lead in our hearts is that we will never, ever be able to replace all of the wonderful people who have been a part of our lives the past 15 years.
David and I came here as kids, really. Fresh out of college and hours away from our own family, we brought babies into the world here.
We have worked alongside you and explored the county's vast landscapes with you. You have taken care of us and made us a part of your own families. We have grown into who we are today in this town because of you.
Craig is very far removed from what other people take for granted. Some of us like that aspect of living here while others don't. Craig makes people tough, resilient, resourceful and proud.
And that makes this town unique in one undeniable way: no matter what, every single person here relies on one another. No one is faceless. The person you crashed carts with at the grocery store you will see again, sooner or later, I promise.
So yes, after slowly sinking into the comfortable familiarity of all your faces, we must let go. We must learn to find our way around a new town, landscape, and people.
But you will forever be with us. We have grown up in our time here, and every single one of you have helped make us who we are today.
We can't thank you enough.
— David, Julie, Brynnae and Ethan Dempster
David Dempster takes a look around the comfortable living area in the Craig house he and wife Julie have called home for 11 years.
"We will definitely miss this place," he says.
He's not the first to say those words. He's not the first to realize a chapter in life closes even as another begins.
Yet, the words are apt.
On the wall near him hang photos of he and Julie and their two children, Brynnae, 14, and Ethan, 11, who were born and raised in Craig.
The walls of their home — which Julie has repainted more than once — speak to the life they've created here in Moffat County.
Tomorrow, Julie will cull garage sale items from the belongings they've collected in the nearly 15 years they've lived in Craig.
A few days later, David will be on his way to Mankato, Minn., and a new job as senior vice president of United Prairie Bank.
But right now, on this early March day, they are content to look back.
David, 43, talks about his career at Bank of Colorado in Craig, where he worked his way through the ranks from lender to branch president.
Julie, 38, talks about trying her hand at an assortment of jobs in Craig, the last as a substitute teacher for the Moffat County School District.
They both talk about their volunteer work — David was an active member of the Craig Kiwanis Club, while Julie was media liaison for the Craig Concert Association.
And they talk about the people they will leave behind.
They remember the Bunco games with friends, the casual conversations in the grocery store that blossomed into friendships, and the way the community shaped them.
"We've really grown and evolved as individuals and as a family here," Julie says with tears in her eyes.
The relationships they built here "really formed, I think, who we are as people," she said.
When David and Julie moved to Craig on Memorial Day weekend in 1997, their first child was on the way and they were far from their families.
In the absence of family, they found a community that welcomed them with open arms, they said.
"The people that we've gotten close to have been definitely … extended family for us," David said.
As new parents, they found support, encouragement and no shortage of neighbors and friends willing to help.
"Everybody says, 'Call me if you need something,'" Julie said. "You just don't know how comforting that is."
Their move to Mankato will be gradual — Julie will stay behind with Brynnae and Ethan until the school year ends — and it will eventually lead them back to a place where family isn't far.
But, in this moment, David and Julie are content to reflect on their adopted family of friends and neighbors here in Craig.
David won't be the first to say the words, but they too seem apt, conveying in simple terms the bonds that have woven their lives together with the life of a community.
"Over the years, we've gotten to know … a lot of good people," he says. "That makes it very hard to leave, for sure."
Click here to have the print version of the Craig Daily Press delivered to your home.