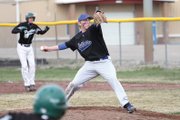 Results ...
Results from the Moffat County High School varsity baseball team's game Friday during the Montrose Tournament at Montrose High School:
(Team — final)
Moffat County — 3
Emery — 15
— MCHS plays Paonia and Montrose on Saturday
Justin Folley said he knew having a young baseball team would present challenges early in the season.
On Friday, the Moffat County High School varsity baseball team stepped on the field for the first time this season in the Montrose Tournament at Montrose High School.
The Bulldogs got overwhelmed early against Emery (Utah) High School in the opening game, falling behind 4-0 after two innings, and struggled to slow the Spartans offense in a 15-3 loss.
"I knew we would struggle being as young as we are, but I thought we did alright for it being our first game," said Folley, the team's head coach. "A lot of the young guys stepped up and did some good things, so all in all, I think it was a learning experience and we will have to go from here."
Junior Bubba Ivers started at pitcher for the Bulldogs, who had to replace two of the pitchers from last year's rotation.
Folley said Ivers walked a few guys early and freshman catcher Phillip Chadwick struggled to handle his pitches, giving Emery the 4-0 lead.
"It just seemed one thing after another would happen and we couldn't keep the good things going," he said. "We had some walks and some mental mistakes here and there and we could never get back into it."
In the top of the third inning, the Bulldogs (0-1) finally started getting their offense going on the heels of junior Jacob Teeter and senior Carlos Maldonado, pulling within one run at 4-3.
However, Emery came out swinging in the bottom of the third, scoring seven runs to push their lead to 11-3 heading into the fourth inning.
"We finally came back and got back in the game with some momentum, but we just fell apart," Folley said. "The defense got a lot better as the game went on, but they didn't have a lot of opportunities to make plays early."
Ivers was pulled in the bottom of the third after walking seven batters.
Folley said Ivers tried to put too much on himself early in the game and didn't stay true to his game.
"This was the first game and (Ivers) wanted to go out and prove something, but I think he took too much on himself," he said. "If he stays relaxed and throws and uses his abilities, he is untouchable. But, I think he was too amped up being the first game."
The Bulldogs ended the game with four hits and Maldonado had two RBIs.
Folley said a lot of the batters let some easy fastballs go by and didn't swing the bat enough.
"There were definitely some balls we could have drove into the field," he said. "The guys were cautious and afraid to make a mistake. We need to work on being aggressive and go after the first pitch."
Folley said Teeter made big strides in the game, his first as a high school player.
"Jacob hasn't played a game in a long time, and he came in as our leadoff hitter and got a big double," he said. "He did really well filling in a position we lost from last year's team."
The Bulldogs play Paonia at 10 a.m. today and Montrose at 1 p.m. to close out the tournament.
Folley said the more his players get on the field, the better they will get.
"We need to be more aggressive and stay (positive) in the game," he said. "Even if we are down a few, we need to stay focused and keeping doing our jobs.
"These guys have the experience from the first game, so I think they will only get better and better."
Click here to have the print version of the Craig Daily Press delivered to your home.