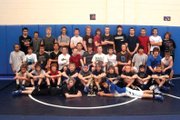 Results ...
The Craig Middle School wrestling team's top individual finishers from the Centennial Invitational on Saturday in Montrose:
(Name — weight class — place)
• Shandon Hadley — 125 — 1
• Eddie Guevara — 130 — 1
• Jesus Duarte — 145 — 2
— CMS finished first as a team out of 18 teams in the tournament.
It had been seven years since the Craig Middle School wrestling team competed at the Centennial Invitational in Montrose.
But Saturday, the Bulldogs went back to Montrose without missing a beat, finishing in first place out of 18 teams.
"We had our successes and our disappointments, but the kids did a great job," head coach Ron Linsacum said. "They had a focus uncommon for their age group and they meant business. They fought from the first match to the last and I am proud of them."
The Bulldogs were led by eighth-graders Shandon Hadley and Eddie Guevara, who finished first in the 125- and 130-pound weight classes, respectively.
Eighth-grader Jesus Duarte took second place in the 145-pound weight class.
"These three guys put in the extra work and it paid off," Linsacum said of Hadley, Guevara and Duarte. "Hadley lifts weights outside of practice, Jesus stays after to get in some more mat time, and Eddie bounced back from a knee injury and we weren't sure he'd be as good.
"Their extra time paid dividends and we want to press on the other kids what that extra work can get you."
Cedar Ridge took second place, finishing 20 points behind CMS.
Linsacum said competition at the tournament was incredible and could be a preview of the high school state meet in a few years.
"The competition level was something not normally seen at a middle school meet," he said. "There were very well coached wrestlers who were very physical. Probably about four or five kids you just know will be a state champ in few years with the level they are at now."
With the Bulldogs only in the second week of the season, Linsacum said not every wrestler is executing the fundamentals perfectly, such as working from the bottom up.
However, he said each wrestler made a great improvement on their feet Saturday.
"The guys who attack from their feet are getting their takedowns and starting the match up 2-0," Linsacum said. "The kids who wait fall behind, but from start to finish, I think each kid worked better on their feet."
Another improvement the Bulldogs made, Linsacum said, was working for the pin.
"If you go back before I was here, Moffat County was known for pinning kids," he said. "If we were behind 5-0 heading into the third, you couldn't count us out. That happened a few times this weekend and it was really exciting."
The junior varsity squad competed Saturday in Hayden, taking third as a team with Matt Moschetti and Garrett Uptain bringing home first-place finishes.
The entire team will travel this weekend to Oak Creek to compete in what Linsacum said is the equivalent of a district tournament.
"The guys who win this weekend will get their names up on the board as district champions," he said. "Last year, we won the tournament as a team and we want to win it again."
Click here to have the print version of the Craig Daily Press delivered to your home.