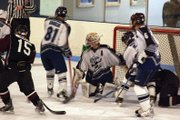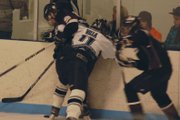 Results ...
Box scores from the Moffat County Bulldogs club hockey team's games Saturday and Sunday during the Rocky Mountain Youth Hockey League Frozen Four tournament at Moffat County Ice Arena:
Game 1
(Team — 1st — 2nd — 3rd — final)
• Moffat County — 0 — 0 — 1 — 1
• Durango/Telluride — 1 — 3 — 1 — 5
Game 2
• Moffat County — 1 — 1 — 2 — 4
• Grand Valley — 0 — 0 — 0 — 0
Game 3
• Moffat County — 1 — 0 — 1 — 2
• Durango/Telluride — 3 — 3 — 5 — 11
— The Bulldogs finished third in the tournament with a season record of 5-15
Bulldog top scorers:
(Name — goals — assists)
• Alfredo Lebron — 2 — 0
• Wyatt Villa — 1 — 2
• Ethan O'Mailia — 1 — 1
• Cade Bangs — 1 — 1
• Thayne Riley — 1 — 0
• Sarah White — 1 — 0
The pulsing sounds of the musical score to "Rocky" could be heard Saturday afternoon throughout the Moffat County Ice Arena.
Not the familiar "Gonna Fly Now" or "Eye of the Tiger" tunes usually associated with the movies, but the intense, wordless beats that play when the Italian Stallion is taking a pounding from Apollo Creed in the double-digit rounds of his biggest fight ever.
Members of the Moffat County Bulldogs club hockey team were on both sides of the underdog story this weekend, but just as Rocky Balboa found a happy ending amid defeat, so did they.
The Bulldogs finished third in the Rocky Mountain Youth Hockey League Frozen Four tournament held Saturday and Sunday at their home rink.
The team hosted Crested Butte, Durango/Telluride and Grand Valley in a weekend melee to crown a champion for the year.
The honors went to first-seeded Crested Butte, whose undefeated streak continued without even playing the Bulldogs in the Frozen Four.
Moffat County faced off against No. 2 Durango/Telluride Saturday morning and were handed a 5-1 loss.
The No. 4 Mavericks of Grand Valley lost, 10-0, in their first bracket game with Crested Butte, setting up a showdown with the Bulldogs.
A mostly uneventful first period became electric when a monster hit from Moffat County High School freshman Thayne Riley at mid-ice injured a Grand Valley player and resulted in an election for Riley in addition to a major penalty for kneeing.
Good fortune came back to the Bulldogs when sophomore Cade Bangs knocked in a shorthanded goal to end the period.
Things only got better from there, as seniors Wyatt Villa and Ethan O'Mailia each scored a goal, as did sophomore Sarah White.
"I think we were passing a lot better and just not freaking out about everything like in the first game," White said. "We just need to slow down and do it right."
The Bulldogs defense never relented, finishing with their first shutout of the season, 4-0.
Goalie Trent Parrott, an MCHS junior, said Saturday he thought the Grand Valley game was a good sign for the rest of the weekend.
"Hopefully we can keep this momentum going," he said.
The celebration was short-lived, however, as the Bulldogs were scheduled to play Durango/Telluride again first thing Sunday.
With Riley still suspended for his earlier penalty, the team had a shortened roster.
Sophomore Brenden Spencer said the lack of one of the Bulldog's strongest players put them at a disadvantage against a team that had already dominated them.
"In that first game, we had a lack of forecheck and hustle," he said. "Our biggest challenge is not having Thayne."
The ensuing 11-2 defeat knocked the Bulldogs out of the tournament, while Durango/Telluride went on to lose to Crested Butte in the final round.
Despite the losses, Coach Rick Villa said he has seen a marked improvement in his players over the course of the season.
The Bulldogs' final count for the year is 5-15, with the majority of wins coming in the second half of the season.
"They're playing better together," Rick said. "There's still some problems like forechecks they had at the beginning, but they're definitely better. Those early games gave them a wake-up call."
Spencer said the need to win came late but not too late in the season.
"I think we more or less realized what kind of state we were in, and once we won it started to boost our confidence," he said.
Rick said he likely wouldn't be returning as a coach next season, though he will continue to serve on the hockey board. He said anyone who takes on the job will find a team willing to improve.
"They've all played hard and had a lot of enthusiasm," he said. "Their attitudes are always good."
Click here to have the print version of the Craig Daily Press delivered to your home.