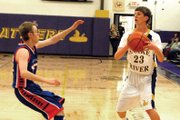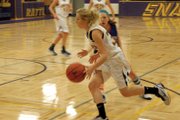 Results ...
Box score from the LSRV (Wyo.) boys varsity basketball team's game Saturday against Burlington in the 1A state finals in Casper, Wyo.:
(Team — 1st — 2nd — 3rd — 4th — final)
• LSRV — 13 — 21 — 21 — 15 — 70
• Burlington — 10 — 16 — 16 — 17 — 59
LSRV boys leading scorers:
• Daniel Wille — 22
• Miles Englehart — 17
• Rex Stanley — 16
• Conner Lee — 9
Results ...
Box score from the LSRV (Wyo.) girls varsity basketball team's game Saturday against Cokeville in the 1A state finals in Casper, Wyo.:
(Team — 1st — 2nd — 3rd — 4th — final)
• LSRV — 22 — 10 — 15 — 6 — 53
• Cokeville — 10 — 9 — 7 — 12 — 38
LSRV girls leading scorers:
• Taylor Kaisler — 18
• Morgan Wille — 13
• Caelee Criswell — 8
• Lydia Skalberg — 8
Last year, the Little Snake River Valley School (Wyo.) boys varsity basketball team got back to prominence, winning the 1A state title.
This season was about staying on top, head coach Paul Prestrud said.
The Rattlers went from November to March, never losing in 28 games, capped by a 70-59 victory Saturday over Burlington in Casper, Wyo., to capture their second consecutive state championship.
"Last year was the first time in a while we won a title, so I think this year there was a little more pressure," Prestrud said. "It was nice to go undefeated and prove in the final game that we didn't just beat easy teams because we played a good team in Burlington and beat them playing our game."
It was the team's three seniors — Miles Englehart, Rex Stanley and Daniel Wille — who again led the team in their final game as Rattlers.
Wille led the team with 22 points, Englehart added 17, and Stanley chalked up a double-double with 16 points and 12 rebounds.
"Offensively, we were able to get the ball inside to Rex who scored off the glass," Prestrud said. "Daniel and (junior) Conner (Lee) drove into the hole and Miles was great, able to score from wherever he wanted."
The Rattlers turned the ball over their first two possessions of the game, but Prestrud said his players didn't falter, scoring 21 points each in the second and third quarters.
Prestrud said Burlington outrebounded the Rattlers, but it was LSRV's defense that controlled the game.
"Our defense is what really won it for us," he said. "Before the game in the locker room, I told the guys the defense would win us the championship and we held each of Burlington's players under their season average."
LSRV girls avenge last season's third-place finish with state title
Jodi Stanley said when Cokeville beat the LSRV girls varsity basketball team in the state semifinals last season, she struggled to let go of the loss.
On Saturday, Stanley and the Rattlers got payback, beating Cokeville, 53-38, to capture the team's first state title since 2002.
"I think it was fitting that we beat Cokeville for the title, and it was a long time coming" said Stanley, the Rattlers' head coach. "It was a sense of accomplishment because I know how hard these girls worked all season.
"In the course of a season, a lot of things can go wrong, so it took some luck, but we got where we wanted to be."
Junior Taylor Kaisler led the Rattlers (28-0) with 18 points, senior Morgan Wille scored 13, and fellow senior Caelee Criswell and sophomore Lydia Skalberg each put up eight.
Each of the Rattlers' starting five scored in the first quarter to give the Rattlers a 22-10 lead.
Stanley said it was fitting for the starters to each contribute because of their teamwork all season.
"For the whole season, these girls played very unselfish and we had a different girl step up each night," she said. "We were able to get good shots and took the ball to the basket.
"From the beginning, we were successful offensively."
As it had all season, however, Stanley said the Rattlers' defense created offensive opportunities all night.
"We were able to get some big steals and when they went on a run, we sustained and didn't let them get too close," she said. "Defense wins championships and I don't think any of us would argue that. We didn't let up any uncontested shots or any easy layups."
Click here to have the print version of the Craig Daily Press delivered to your home.