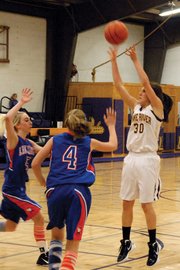 Results ...
Box score from the Little Snake River Valley School (Wyo.) girls varsity basketball team's game Friday against Farson-Eden in the semifinals of the 1A state playoffs in Casper, Wyo.:
(Team — 1st — 2nd — 3rd — 4th — final)
• LSRV — 11 — 16 — 10 — 15 — 52
• Farson-Eden — 8 — 3 — 12 — 8 — 31
LSRV leading scorers:
• Lydia Skalberg — 13
• Caelee Criswell — 11
• Shelby McKee — 10
The Little Snake River Valley School (Wyo.) girls varsity basketball team hadn't faced many deficits this season.
In 26 wins, the Rattlers closest game was a 37-31 win over Farson-Eden.
On Friday, Farson was the last team standing between LSRV and the 1A state championship game in Casper, Wyo.
And, in the two teams' fourth meeting this season, Farson jumped out to an 8-4 lead early in the first quarter.
However, LSRV senior Shelby McKee stepped up when it mattered, hitting two big shots to tie the game and scored 10 points to help lead the Rattlers to a 52-31 victory.
"Shelby was able to hit a couple of big shots and we were off to the races," head coach Jodi Stanley said. "(Farson) tried to make some runs late, but we held our composure and played really well."
The Rattlers (27-0) scored the final seven points of the first quarter and took a 27-11 lead into halftime.
Stanley said her players were a little nervous at the beginning of the game and turned the ball over too many times.
"We tried to force some passes inside and that caused a couple of turnovers," she said. "Once we started running our offense the way we wanted, Shelby got some good looks and I think her shots gave the girls some confidence moving forward."
Sophomore Lydia Skalberg led the Rattlers offense with 13 points and senior Caelee Criswell added 11.
Stanley said McKee, Criswell and fellow senior Morgan Wille kept the team grounded.
"There were a couple of times I felt we weren't being patient with the ball," she said. "Farson controlled the tempo, but Shelby, Caelee and Morgan helped the team keep under control and keep on track. They stepped it up and improve the other girls' play."
Stanley said playing a team multiple times in a season can be tough and the Rattlers needed to switch things up to be successful.
After Farson's early run to open the game, Stanley said the Rattlers defense buckled down.
"We weren't sure what they were going to do, so we had to mix things up," she said. "We had to play off them and we pressured some of the girls who don't usually get the ball after shutting down their stars. It threw them off and we capitalized."
The Rattlers play Cokeville at 5 p.m. today in the championship game.
Last season, Cokeville knocked LSRV off in the semifinals en route to a state title.
Stanley said the Rattlers used last year's disappointing end as fuel for this season.
"I think we are so focused on the goal we have that we won't have a let down," she said. "We decided early on that it would be hard to beat us and we weren't going to beat ourselves.
"We still have a bitter taste from last year."
Click here to have the print version of the Craig Daily Press delivered to your home.