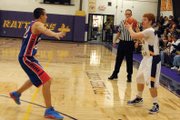 Results ...
Box score from the Little Snake River Valley (Wyo.) School boys varsity basketball team's game Friday against Ten Sleep in the semifinals of the 1A state playoffs in Casper, Wyo.:
(Team — 1st — 2nd — 3rd — 4th — final)
• LSRV — 14 — 13 — 22 — 14 — 63
• Ten Sleep — 9 — 9 — 8 — 15 — 41
LSRV leading scorers:
• Miles Englehart — 20
• Rex Stanley — 15
• Conner Lee — 14
• Daniel Wille — 12
The Little Snake River Valley (Wyo.) School boys varsity basketball team saw five players score in the first half of Friday's semifinals game against Ten Sleep.
Compared to Ten Sleep's two players who scored, Rattlers head coach Paul Prestrud said statistically, LSRV should have been up big.
But, the Rattlers only went into halftime with a nine-point lead.
The Rattlers didn't panic, Prestrud said, and the team's three seniors again led LSRV to a 63-41 victory and a spot in today's 1A championship game in Casper, Wyo.
"It wasn't the easiest game and we started kind of slow, but we overcame a good individual performance from Ten Sleep's guard," Prestrud said. "At this stage, everyone is out to beat us and know what we can do, but we just did what we have been doing all season to get a victory."
The Rattlers (27-0) contended Ten Sleep well, Prestrud said, but allowed a player to score 13 points in the first half.
"We knew if that kid scored 25 points, we couldn't let him get everyone else on the team going," he said. "We kind of expect to be up by more than 10 points at half, but we missed some shots early and didn't have that lead."
Senior Daniel Wille, who led the Rattlers in their first-round game Thursday with 19 points, caught most of Ten Sleep's attention Friday.
Prestrud said Wille made two 3-pointers early, but was grounded for most of the game.
But, fellow senior Miles Englehart stepped up, leading the team with 20 points, including eight points in the second quarter and six to begin the team's 22-point third quarter.
"We struggled outside, so we had to push the ball inside to Miles early," Prestrud said. "All game, he played well and when he started drawing man defense, we were able to get the ball outside for some big shots."
Junior Conner Lee hit two big 3-pointers in the second half on way to a 14-point performance and senior Rex Stanley scored 15.
Defensively, Prestrud said once the Rattlers switched to their press in the third quarter, Ten Sleep had no answer.
"We tried to work them down early, but once we put the press on and made them run, they were outmanned," he said. "They couldn't match our speed and we tired them down so we could get some easy transition points."
The Rattlers play Burlington in the championship game at 3:30 p.m. today.
Burlington beat St. Stephens, 69-56, in Friday's other semifinal game.
"We won our semifinal game and now we can focus on what we have wanted all season," Prestrud said. "We have been working for this since November and we are in the place we want to be and just have to take care of business."
Click here to have the print version of the Craig Daily Press delivered to your home.