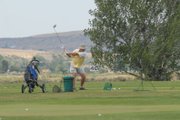 At a glance ...
Cottonwood Classic events schedule
First tee-times: 7:30 a.m. Fri., Sat., Sun.
Last tee-times: 1:10 p.m. Fri., Sat., Sun.
Calcutta: 6:30 p.m. Friday
— Don Johnson guitar evening and night Friday and Saturday
Barbeque dinner at Tin Cup Grill after play Saturday
Winners announced after play Sunday
Quotable
"The weather's going to hold out nice and it should be a great weekend. I like this year's field and I'm excited about the weekend."
—Jason Back, Yampa Valley Golf Course head golf pro, about his feelings on the Cottonwood Classic
The Yampa Valley Golf Course began its biggest tournament of the year this morning, with the first golfers in the field teeing off at 7:30 a.m.
The Cottonwood Classic, an annual tournament at the end of June which attracts more than 100 golfers each year, kicked off a banner weekend for the golf course.
Head golf pro Jason Back said there are 127 players in this year's tournament field. They are broken up into seven flights, arranged by handicap level.
The tournament is 54 holes of play, concluding Sunday. The final tee-times Sunday will be 1:10 p.m.
The player with the lowest gross score will be crowned champion Sunday. Each day will also include a closest to the pin contest with prizes involved.
Back said a great deal of preparation goes into the tournament, and it is nice to see it come together.
"It's about a three-week process to get everything ready to go. It's the busiest tournament of the year," he said.
One of the big goals with the Classic from the club's standpoint is to provide activities and entertainment during downtime for golfers coming in from out of town, Back said. The chipping contest will be a part of that, but the golf course will provide other entertainment as well.
A Calcutta will take place Friday night at the clubhouse, where golfers and others in attendance can bid auction-style on the golfers they believe will win the tournament.
It will also be a big weekend for the Tin Cup Grill, according to owner Gary Baysinger.
"It's one of the busier weekends of the year," Baysinger said. "The Tin Cup is obviously very involved with making sure that concessions, food and drink is taken care of. We're here to provide the golfers who come in with a good food and entertainment package."
The restaurant will offer live music from guitar player Don Johnson Friday and Saturday night, and will also host a barbeque dinner Saturday for the golfers.
"Saturday night we always have a big steak-fry," Baysinger said. "I also own Mountain Meat here in Craig, so we make sure we serve the very best steaks we can get for the golfers."
The warm, sunny weather is forecasted to stick around over the weekend and provide excellent playing conditions. Back is hoping there will be low wind, and he will be happy.
"The weather's going to hold out nice and it should be a great weekend," he said. "I like this year's field and I'm excited about the weekend."
Click here to have the print version of the Craig Daily Press delivered to your home.