Whittle the Wood Rendezvous winners:
(Award — carver — entry title)
• People's Choice: Bongo Love, "Crocodile Sundae"
• Artists' choice: Robert Waits, "Wizard Hollow"
• Judges' choice:
(Place — cash prize — carver — entry title)
— First place, $1,000: Bongo Love, "Crocodile Sundae"
— Second place, $750: Steven Higgins, "Guardians of the Forest"
— Third place, $500: Ken Braun, "Doomed"
Photo Gallery
Whittle the Wood 2012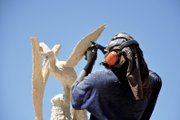 As the music started late Saturday afternoon at Loudy-Simpson Park, a few bold dancers stepped out onto the grass.
Before long, a crowd had gathered in front of the stage, swaying singly or in pairs as Alter Eagles: The Definitive Eagles Tribute performed for a crowd that covered the lawn.
The performance was the capstone of the 13th annual Whittle the Wood Rendezvous.

Dave Pike, Craig Parks and Recreation Department director, said the event was an unquestionable success.
"On average, this is every bit as well attended" as past Whittle the Wood events hosted at Veterans Memorial Park, he said.
Pike estimated that at least 2,500 people turned out for the Alter Eagles concert. About twice that number came through the park throughout the day, he said.
The Tropical Coyotes kicked off the concert schedule Friday night, followed by Fire and Rain: The James Taylor Experience earlier Saturday afternoon.
"I think everybody enjoyed (the bands) … especially this act," Pike said as Alter Eagles continued to play. "This one's definitely a hit." Craig Police Department officers were on hand at the park Saturday but encountered no major incidents and only one "surprise" when six tour buses drove into the park in search of restrooms, Sgt. Corey Wagner said.
"That's been the biggest thing that we've had," he said. "The crowd has been awesome."
Pike said the same.

"It's gone really good," he said. "We haven't had any trouble."
The four-day event also featured a wood-carving competition in which 11 carvers went toe-to-toe for top honors in several categories.
Returning Whittle the Wood carver Bongo Love, of Lafayette, left with back-to-back wins in the People's Choice and Judge's Choice categories.

"I didn't think about it," Love said after receiving the awards. "I just came here to have a good time."
That's not to say winning wasn't on his mind.
"I knew that I had to win because it's hard to keep on winning so you've got to up your game all the time," he said.
The work of Love and other carvers in the contest left an impression on Maggie St. John, of Craig.
The entries in this year's competition were "awesome," she said. "They did such a great job," she said.
In her mind, the change of venue from what was formerly known as Craig City Park didn't diminish the event.
Loudy-Simpson Park offered more space and more shade, she said.
"I think that was a great improvement from City Park," she said.
Whittle the Wood also drew attendees from farther-flung locations.

Barry Roby, of Bakersfield, Calif., was visiting friends in Steamboat Springs and came to the event with them Saturday, he said.
"This is kind of fun," he said. "It's a great outing for a community."
Click here to have the print version of the Craig Daily Press delivered to your home.