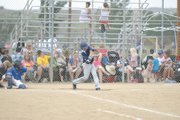 Quotable
"It's great to see how many young kids are into playing baseball. That's what we want at these events."
Connor Logan, field supervisor for Steamboat Mountain Magic Triple Crown baseball tournament games played Loudy-Simpson, about a rise in event participation.
Loudy-Simpson park is not just busy due to carvers and vendors at the Whittle the Wood Rendezvous this weekend.
The Steamboat Mountain Magic Triple Crown baseball tournament takes place this weekend as well. Baseball teams with players ages 8-14 played in Steamboat Springs, Hayden, Craig and Oak Creek.
Teams came from all over the state, and in record numbers. Connor Logan, field supervisor at the games played Loudy-Simpson, said there were 87 teams, the most ever at Mountain Magic, hailing from Louisville, Fort Collins, Longmont, Greeley, Castle Rock and more.
"It's great to see how many young kids are into playing baseball. That's what we want at these events," Logan said.
The large number of registered teams prompted the games being played in Craig. The tournament began Friday at 8 a.m. and will last through Saturday at all four sites with pool play, then teams will advance to a tournament format Sunday in Steamboat Springs.
The top two teams in each age group will earn a spot to play in Triple Crown Baseball Championship events. The next championship event is the Triple Crown World Series, in mid-July.
Monica Bicknell of Castle Rock was at Loudy-Simpson to cheer on the Sandlot Bees, and said her family was camping in Steamboat for the weekend.
It was her first trip to Craig, but she said other families from the team had frequented Craig in the past.
"It's cool that they have the carving thing going on over (across Loudy-Simpson Park)," Bicknell said. "I've never been here, but we've got others in our group who have hunted up in this area, so there are definitely some people that know Craig."
Click here to have the print version of the Craig Daily Press delivered to your home.