Quotable
"Typically we'll have to hand-water greens and look for dry spots from maybe mid-June to mid-August. This year we had to do it all through April and May"
—Tim Boyle, Yampa Valley Golf Course grounds superintendent, about the dry weather's effect on the golf course.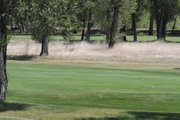 Like most of Moffat County, the Yampa Valley Golf Course has been forced to deal with the historically dry weather.
YVGC Grounds Superintendent Tim Boyle says this is the driest golfing season he's seen in his four years at the course. As a result, Boyle said the grounds keeping crew has been "watering like crazy" this spring and summer.
"We turned on the irrigation March 15 this year and that's at least two weeks earlier than I've ever done it before," Boyle said. "We've been hand-watering greens ever since. It's been a struggle to get water down."
The golf course has been adversely affected by the lack of precipitation going back to last winter.
"We've had to change a bunch of sprinkler heads and fight dry spots all spring," Boyle said. "I bet our irrigation bill is way bigger this year because of all the sprinklers we've had to swap out. The electric bill for the pumps is probably going to be huge also.
"This is just the driest spring we've had."
The grounds crew at Yampa Valley has operated ahead of its typical schedule this summer. In addition to turning on the irrigation system early, watering greens and dry spots started months in advance.
"Typically we'll have to hand-water greens and look for dry spots from maybe mid-June to mid-August," Boyle said. "This year we had to do it all through April and May. That goes all the way back to not having much snow last winter."
Still, the course has maintained its strong reputation. Golfers coming from outside Craig have praised its condition at tournaments, while locals have not noticed much of a drop in the quality of play.
"In my opinion, it's one of the nicest courses around," said David Moore of Craig. "We're just amateurs, but it's in good shape. It's a great way to have fun."
The golf course gets all its water for maintenance from the Yampa River. Earlier in the summer, it was a concern for Boyle whether the river would even stay high enough to pump water.
"If the river gets too low, we can't pump water from it," he said. "We've had no problem with that this year, but it was a concern. There's just been no rain."
The dry conditions, while difficult to combat, are still preferable to the especially wet conditions the course dealt with last year.
In 2011, due to flooding, the course had to close its front nine holes for three weeks.
Boyle said the course condition has improved in recent weeks with the help of the season's first significant rain.
"We finally got that decent amount of rain during the Silver Bullet weekend (July 14-16)," he said. "Things are finally snapping back into place. This is probably the best the course has looked since we opened. Up until (the rain), it had been hectic."
Click here to have the print version of the Craig Daily Press delivered to your home.