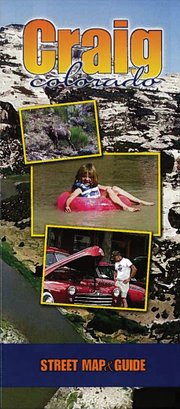 Christina Oxley, executive director of the Craig Chamber of Commerce and Moffat County Visitor Center, recently reported several groups are illicitly using the chamber's name when trying to sell advertising space to local businesses.
According to Oxley, area businesses have received ad requests from groups putting together Craig/Moffat County maps or community guides who list the chamber as a distribution point or sponsor.
"This is not true," Oxley said in an email. "The Craig Chamber of Commerce & Moffat County Visitor center creates and distributes its own city and county map, and it is the only Craig map that we do distribute."
Oxley said local businesses can expect sales to start for the chamber's map in August, and that funds raised by ad sales for the map go toward covering operating costs for the chamber and the visitors center.
"If you don't have a copy, they are available at the our offices, 360 E. Victory Way," Oxley said in the email. "This map is used by visitors, delivery drivers, emergency personnel and is a favorite of recreationalists, residents and even yard-salers. It includes the city map with street index and county road map with road index, as well as community information and details on areas such as Western Knolls, Wilderness Ranch and north Craig."
Anyone with questions about the chamber's map can contact Shannon Russell at 824-5689. If anyone is approached by a sales person who lists the chamber or visitor center as a distribution point or sponsor for a map or community guide, Oxley requested that they contact they chamber.
Click here to have the print version of the Craig Daily Press delivered to your home.