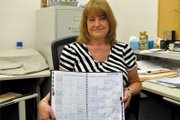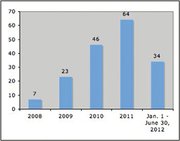 If you go ...
What: Foreclosure prevention workshop
When: 2 to 3 p.m. Aug. 2
Where: Conference room in the Moffat County Courthouse, 221 W. Victory Way
— The event is free and open to the public. Housing counselors approved by the U.S. Department of Housing and Urban Development will be available to speak with residents about foreclosure prevention options.
Need Help?
The Colorado Foreclosure Hotline offers free counseling to residents in or near foreclosure. Shannon Peer, director of housing counseling with Brothers Redevelopment, which administers the hotline, offered the following suggestions for homeowners who could be in danger of losing their homes.
• Seek out free resources first. For-profit housing counseling services can be costly, and "track records from most of those companies are not stellar," he said.
• Realize that what worked for one person may not work for everyone. Homeowners often hear about a solution that worked for a friend or family member and believe it also will work for them. However, "every homeowner's situation is different, and it's even hard to compare two next-door neighbors," Peer said. "Their loan products are different. Where they are in the process is different. Their financial situation is different."
• Be proactive. The earlier homeowners address potential foreclosure, the better chances they have of avoiding it, Peer said. Taking action — whether it be talking to a housing counselor or the bank or doing their own research — is better than "just not sitting idly by and allowing the clock to tick away," he said.
For more information about preventing foreclosure, call the Colorado Foreclosure Hotline at 1-877-601-4673.
Quotable
"It is sad, especially in a small town when you know everybody. It's terrible."
— Moffat County Treasurer Elaine Sullivan about rising foreclosure rates in the county.
Moffat County Treasurer Elaine Sullivan and her staff mainly deal with the concrete and quantifiable.
But she sometimes sees the painful human impact of the statistics, particularly when they relate to a homeowner's worst nightmare come true.
"I do know that there's been several people that have come in, and they're just horrified that they're going into foreclosure," Sullivan said.
"They've all stated that they've tried to work out some sort of payment plan with the banks," but to no avail, she said.
Data kept by the Treasurer's Office indicates foreclosures are rising sharply in Moffat County.
Only seven foreclosures were recorded in the county in 2008. By 2011, that number had skyrocketed to 64.
So far, this year is trending on a similar upward trajectory.
Thirty-four foreclosures were recorded from Jan. 1 through June 30, or nearly five times as many in all of 2008.
The data represents all foreclosures, including those on commercial properties, but most are residential.
Sullivan believes the steep increase is a symptom of a lingering economic slump.
"I think it's the state of the economy in the United States," she said. "It doesn't look good anywhere, and I think it just hit us slower."
As the Denver metro area and Front Range are beginning to rebound from the foreclosure crisis, rural communities like Craig are beginning to take the hit, said Shannon Peer, director of housing counseling with Brothers Redevelopment.
The Colorado nonprofit — a housing counseling agency approved by the U.S. Department of Housing and Urban Development — manages and administers the Colorado Foreclosure Hotline, a free resource for homeowners in danger of losing their homes.
The hotline is scheduled to sponsor a free foreclosure prevention workshop from 2 to 3 p.m. Aug. 2 in the conference room at the Moffat County Courthouse, 221 W. Victory Way. The event follows a similar workshop hosted in May after officials with Brothers Redevelopment noticed an upswing in local foreclosure rates.
"In 2011, we saw some big increases in foreclosures in the area surrounding Craig," Peer said.
Foreclosure counseling is relatively new to the area.
"In the past, there's really been no need," Peer said.
But as the aftershocks of the recession began to wash through Western Slope communities, lower home prices and foreclosure followed.
As property values faltered, "it put pressure on homeowners," he said. "They couldn't just sell."
Low home prices can turn homebuyers' mortgage and property values topsy-turvy, sometimes with disastrous consequences. If they dip low enough, homeowners can owe more on the home than what it's valued at or what they can sell it for, said Yvonne Gustin, LLC owner/broker associate at Country Living Realty in Craig, said in a June interview.
Her office is "seeing a lot of those result in foreclosure," she said.
Foreclosed homes pose another set of challenges at the other end of the spectrum. A property that looks like a good deal can quickly become an expensive quagmire for homebuyers without enough financial resources.
"Everybody wants a foreclosure, but a foreclosure's not for everybody," Gustin said.
Foreclosed homes are sold "as is," which means the buyer could get saddled with a home needing extensive repairs. Getting a loan to fix a previously foreclosed house isn't impossible, but it's often more difficult, she said.
The down payment on a foreclosed home is often pricier because "the bank wants to know that that (buyer) has a lot of reserves in case there's issues with the property," she said.
Despite the glum statistics, foreclosures make up only a fraction of what Gustin sees locally.
"They're out there, but they're not dominating the market," she said.
Still, Sullivan hopes something intervenes to staunch the rising number of foreclosures.
Watching homeowners struggle as their homes slip from their hands is one of the hardest parts of her job, she said.
"It is sad, especially in a small town when you know everybody," she said. "It's terrible."
Click here to have the print version of the Craig Daily Press delivered to your home.