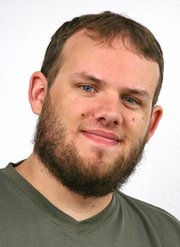 Business News Tips
The Daily Press wants to know what's happening at your business or place of
work, including promotions, new employees, transfers, awards, special deals, new products and more.
Send all your business news tips to the daily press by e-mail at: editor@craigdaily...
The icy months of January and February may give some vehicle owners cause to consider purchasing a new car better suited to winter conditions. The problem is that it may not be the best time financially for some people.
But, kicking the tires in certain car lots may result in better savings than you'd think.
Cook Chevrolet and Subaru is participating in the Factory Challenge, a sales drive designed to increase numbers in dealerships at the beginning of the year, running throughout February.
Owner Scott Cook said the quota for the challenge is 150 units between the dealerships he owns in Craig and Steamboat Springs, which applies to both new and used vehicles.
Cook's staff has participated in the effort for several years.
"We almost hit the sales number last year, and if you do that, there's a lot of incentives, which are different every year," he said. "The sales number is always different, because we're still trying to figure out what 'normal' is for this time."
Cook said the auto industry has faced difficulties at national and local levels in the recession era, an issue that's no less prominent in the winter months.
"It's a time of year when it's not the busiest, and it's after Christmas, so people are strapped for cash," he said.
Cook said prices are competitive at this time of year, and people who have been hesitating to buy a car may get one of the best bargains as opposed to the rest of the year.
Additionally, he said Northwest Colorado residents buying from a dealership in the area would have better access to service than if they traveled to a different part of the state like Denver.
"With all the incentives we have, it's really a great time to buy a car," he said.

Cook Chevrolet and Subaru is at 1776 W. Victory Way in Craig and at 1955 Curve Court, Steamboat.
For more information, call 824-2100 or 879-3900 or visit www.cookchevrolet.com
Drive-thru proves popular for restaurant
When it comes to picking up food on the run, gone are the days when you shouted into a speaker box and hoped what you ordered is the same as you'd receive.
With its recent leap into using new equipment in its drive-thru lane, Subway, 1420 W. Victory Way, has seen a surge of customers eager to try the new mechanism.
"The customers really like it," owner George Barlow said. "The way it's set up, it truly gives you the chance to customize your food and get it faster and quicker.
"We've had a few bugs, but it's really worked out well."
The drive-thru screen utilizes touch-screen technology and walks patrons through every option of ordering sandwiches, from their choice of bread to toppings and condiments.
"It's really neat because it shows how much Subway's changed," Barlow said. "We went from having a choice between white or wheat to six different kinds of bread.
"We designed the building for the drive-thru in 1994, but it was kind of hard to be accurate with orders back then, so people didn't use it much."
Barlow said his general manager, Judy Peters, had pushed for use of the technology, which was first installed about two months ago.
"She's really got her finger on the pulse of what the community wants," Barlow said. "They only have this at about 20 Subways across the country, so we're one of the first."
Click here to have the print version of the Craig Daily Press delivered to your home.