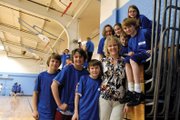 Quotable
"Sports is such an outlet for kids in so many different places. Athletics is what drives these kids and sometimes it's the only thing that keeps them here. They are able to raise their grades to meet a standard and are able to be more confident in themselves."
— Jill Hafey, Craig Middle School assistant principal/athletic director, on the role sports play in a middle school student's life
Four years ago, Jill Hafey was a third- and fourth-grade teacher at Ridgeview Elementary School.
Hafey, who earned her bachelor's degree in elementary education from Mesa State College, said she loved what she was doing, but felt she had more to give.
Taking over as coordinator of the English Language Learners program helped, but Hafey still believed she had more to offer.
Then, an assistant principal/athletic director position opened at Craig Middle School, and Hafey jumped at the opportunity.
"I'm always climbing the ladder of life, and I was at my (teaching) position for 11 years and loved every day of it, but I wanted to impact a greater population than the 25 kids," she said. "It was a hard, hard decision, but I wanted to get my feelers out there to see how I could make a bigger impact in education."
The age difference between Ridgeview and CMS students was noticeable, Hafey said, but something clicked early on in her new position.
"I always thought I'd be elementary and I'd never do high school or middle school, but I love it and wouldn't trade this position for anything," she said. "I take every aspect of my job, whether it is athletics or discipline, and everything is to boost the kids up and make them the best they can be.
"These are the hardest times for these kids and they can be mouthy, but that is just the stage of life they are in and they just want someone who is consistent and fair."
Hafey, who graduated from Moffat County High School in 1992, said she was never a big athlete, having only competed on the swim team and volunteering as athletic trainer at MCHS.
However after making a bet with a friend in college, she began to run, and athletics and health became a bigger part of her life.
As an athletic director, Hafey said she's learned how valuable sports can be in a seventh- or eighth-grader's life.
"Sports is such an outlet for kids in so many different places," she said. "Athletics is what drives these kids, and sometimes it's the only thing that keeps them here. They are able to raise their grades to meet a standard and are able to be more confident in themselves."
Sports took an even bigger role in Hafey's life when she married her husband, Kip, the MCHS varsity football coach, in 1993.
Hafey said she was the "average geek and (Kip) was the jock" in high school, but after they graduated they hit it off at, of all places, a softball field during one of Kip's games.
After spending her college years watching Kip play baseball from the sideline, Hafey is still watching her husband, albeit now while he's coaching.
"It is still a joy to watch him coach," she said. "Just watching him interact with the kids, I learn a lot. For some of (the players), a coach is the best thing that happened to them, and (Kip) has to walk the fine line of holding them accountable with a firm and loving hand."
Athletics doesn't just play a role in Hafey and her husband's careers, but also in their family life.
They have four boys — Kaden, 12, twins Ethan and Logan, 8, and Ian, 6.
All the Hafey boys participate in youth wrestling and basketball.
Kaden will be in seventh grade next year, entering what could be a six-year stint under his parents' watch, whether it be Hafey as CMS athletic director or Kip as MCHS football coach.
"I think it will be harder on (the boys) than us because they will be in the spotlight and they won't get any freebies," Hafey said. "I hold a high standard for my boys in forms of work ethic, respect and sportsmanship. If they are under their dad, they will have to step up to the plate, and if they earn a position it is because they truly earned it."
It's not always about sports for the Hafeys, however. The family uses time in the summer to bond through other activities.
"In the summer, we have about one month with our schedules, and we ride horses in the mountains to fish, and we do a lot of camping and four-wheeling," Hafey said. "The three or four hours in the car for our trips is the best family time we have."
Hafey said she enjoys her job and enjoys her time with her family, and with help from her and Kip's parents, she gets to concentrate on both.
Life can be hectic, she said, but she wouldn't change a thing.
"I have a job and a family I love," she said. "I think I have the perfect world."
Click here to have the print version of the Craig Daily Press delivered to your home.