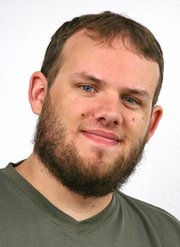 Business Beat Tips ...
The Daily Press wants to know what's happening at your business or place of
work, including promotions, new employees, transfers, awards, special deals, new products and more.
Send all your business news tips to the Daily Press by e-mail at: editor@craigdaily...
For someone trained in the art of movement, staying in one place can be torture.
But, one of the best known members of the Craig dance community will be returning to do what she loves best.
Jeni Giedd, owner of Just Dance, 500 Yampa Ave., steps back into the role of dance instructor starting today following a lengthy maternity leave.
Giedd, who has taught dance in Craig for five years at multiple locations, gave birth to her son, Kasen, in November.
After participating in and studying dance her whole life, Giedd said she played a smaller role in her dance classes in the months leading up to motherhood.
"I was having to teach classes from a chair, which I swore I would never do, I didn't want to be that kind of teacher," she said. "Sometimes, you just have those circumstances."
Giedd said substitute instructor Karen Bolton has been a godsend while she was on bed rest.
"I'm planning to jump right in, and I have Karen on standby if I need her, but I'm sure it'll all come back quick," she said.
Giedd's classes in fancy footwork include hip-hop, creative movement, both for younger children, and an advanced course for older students. Fellow instructor Kalee Voegtle, who had her own baby only a week before Giedd, specializes in ballet.
With more than 100 children involved with the studio, there is only so much room for students, but the staff tries to accommodate as many as possible.
"If the kids can't get on our waitlist, there are still so many other great programs in town," Giedd said. "I just think it's great for kids to have something active to do after school, like Zumba or Gymstar or the Boys & Girls Club."
Giedd said she will accept applications through Feb. 1, after which she'll have to focus on readying students for a May recital. She added she has already started planning routines for performances.
"This is my favorite time of year because I have everything in my head and watch them work hard for the next three months," she said. "When they get up on stage, they surprise me every year."
Enrollment is $40 per month per class or $120 per class per semester, with special prices available for families with multiple children.
For the full schedule of classes and pricing options, visit www.justdancecraigco.com or call 629-2651.
Area appliance outlet offering clearance deals
If you found the stores picked clean while looking for that special holiday purchase, you may have your chance to get a big discount on the large items you want in your house.
Intermountain Appliances, 395 School St., is featuring a sale on everything on its floor as the staff prepares to change up its inventory.
The sale includes virtually everything, such as televisions, furniture, bathroom and kitchen fixtures and large-scale appliances like ovens, washing machines, dryers, refrigerators and more.
Sales office manager Jennifer Barlean said the discount varies model to model on each item.
"It can be anywhere from 10- to 50-percent for all the stuff that's in the store," she said. "We're going to be restocking with all the new models."
Barlean said the store's staff did steady business during Christmas and is anticipating bringing in the new items.
At this time of year, customers may be faced with a tough choice: getting something for a fraction of the regular price or taking home the newest model available.
"We'll have a lot of new models in the appliances mostly," she said. "I think we'll have some stuff people will like."
Barlean added that any of last year's models that aren't sold will still stay on the floor and be marked down until they're gone. The clearance sale will run at least through the end of the month and possibly through February.
Business hours are 8 a.m. to 5 p.m. Monday through Friday and 9 a.m. to 5 p.m. Saturday.
For more information about remaining materials, call 824-6945 or visit www.intermountainappliance.net.
Click here to have the print version of the Craig Daily Press delivered to your home.