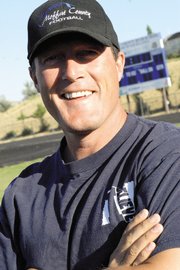 Quotable:
"Our football field is average at best, the first three rows of the stands are not usable because they sit below the field, the press box is an embarrassment, the sound system is weak, and the track has huge dips. The whole stadium complex is hum-drum."
— Lance Scranton, Moffat County High School English teacher and football coach, from his column concerning facility upgrades needed at MCHS
Since moving to Craig to be an English teacher and football coach 14 years ago, there have been many changes at our high school.
When Joel Sheridan hired me in 1998, Moffat County High School was a hub of activity with a student body of more than 875.
John Haddan asked me to run the football team's offense. I met Kip Hafey, and we all got to work on the upcoming season.
We had a coaching staff of former high school and college players, and I was confident we could whip 70 players into a fighting machine.
I remember the first student pep rally I attended, led by Student Council sponsor Jim Loughran.
It was crazy.
The gymnasium stands were filled with kids yelling and screaming, and teachers were on the floor competing in contests with the kids.
The atmosphere was electric.
The first game was even crazier.
We played a powerhouse team from Green River, Wyo., and found ourselves in a dogfight. While we lost the game, we learned we had a pretty decent team, and later we would go on to make the playoffs, but lose to the eventual state champions from Evergreen.
The academic side was just as crazy.
I taught five English classes that averaged between 25 to 35 students. We had a zero hour period and I asked Joel Sheridan if I could offer a weightlifting class for our athletes.
He said, "Put it in the schedule, and if they sign-up, absolutely."
They did sign up, and so began a 14-year mission to help improve our athletic teams through strength and conditioning.
Most of our teams were doing pretty well, and a unified lifting program was a tough sell at the time because it didn't seem necessary.
But, change was inevitable and began in April 1999 when the Columbine tragedy sent schools reeling around the country.
Making certain students were safe and parents could allow their children to attend our schools with a certain level of security became the priority. Suddenly, our open and welcoming attitude about kids and schools began to change.
By 9/11, things had somewhat gotten back to normal when my colleague, Craig Conrad, hurried by me in the hallway shouting, "We are under attack," on his way to the library.
I watched in shock with other teachers and students as the news media reported that jets were being flown into the Twin Towers, and there was an attack on the Pentagon.
These events would have a lasting impact on our schools.
We began to pay much more attention to how our buildings were secured, and over time how we taught our students.
We began a very expensive upgrade of our facilities to monitor how students and visitors entered our schools, implemented a long process of upgrading how we delivered instruction, and our enrollment began to drop.
Things were indeed changing.
Along the way, it was inevitable that something was going to suffer at the cost of upgrading our buildings and improving instruction while our student population was in a steady decline.
Athletics began to lose the focus it once had in our school district.
Athletic budgets were cut, resources dwindled and hiring teachers who also coached was not a priority, nor, it seemed, were athletic programs.
Around the state, strength programs were becoming part of the success strategy, but I was up against a certain principal who was telling our staff that students could take a weightlifting class only once in their four years at the high school.
We were changing, but not in a positive direction for athletics.
When I began my career at MCHS, Sheridan was impressed that I was a coach, had played football at a high level, had a passion outside of the academic classroom, and he saw that strength training was important for athletic success.
Back then, many of the teachers were coaches, but today, with a staff of more than 35 teachers, there are only five coaches in the building who also teach.
Our school truly has gone through some major changes.
However, last week, I attended a meeting I believe will be remembered as a watershed moment that will positively impact sports programs at our high school.
I experienced the passion the community has for the athletic programs their sons and daughters will be part of, and how they want to help coaches build successful teams by forming a booster club.
But, what will have a lasting impact on me was a grassroots organization, spearheaded by Tony Peroulis, who spoke forcefully about naming our football field after Doug Deyo, who served our district for 31 years.
Opinions were expressed and some tempers flared, but at the end the discussion, I kept thinking: Naming a mere football field after Doug Deyo is simply not enough.
To name something after someone who has had such an impact on our community, we need to think big. We need upgrades.
Our football field is average at best, the first three rows of the stands are not usable because they sit below the field, the press box is an embarrassment, the sound system is weak, and the track has huge dips.
The whole stadium complex is hum-drum.
Coaches Hafey and Trapp, myself, and the football and track and field staffs have repeatedly asked for upgrades, but the stadium simply has not had the focus of our resources over the past 14 years, so it's repaired year after year just enough to keep it usable.
My hope is that after we have a booster club in place and get all of our resources directed at honoring Doug Deyo that we can also pull together as a community to upgrade our sports complex so it's worthy of naming.
I hope to be standing on the sidelines next fall, under the Friday night lights, getting ready for the big game when the stadium announcer begins …
"Welcome to the Doug Deyo Sports Complex and Memorial Stadium for tonight's contest between the Bulldogs of Moffat County and …"
As a community, as fans, parents, and supporters, we will look around with pride at our upgraded sports complex and everyone in attendance, listening on the radio, or watching on the Internet will know Doug Deyo had a huge impact on our school and motivated us to change things for the better.
Let the upgrade begin — I'm all in.
Click here to have the print version of the Craig Daily Press delivered to your home.